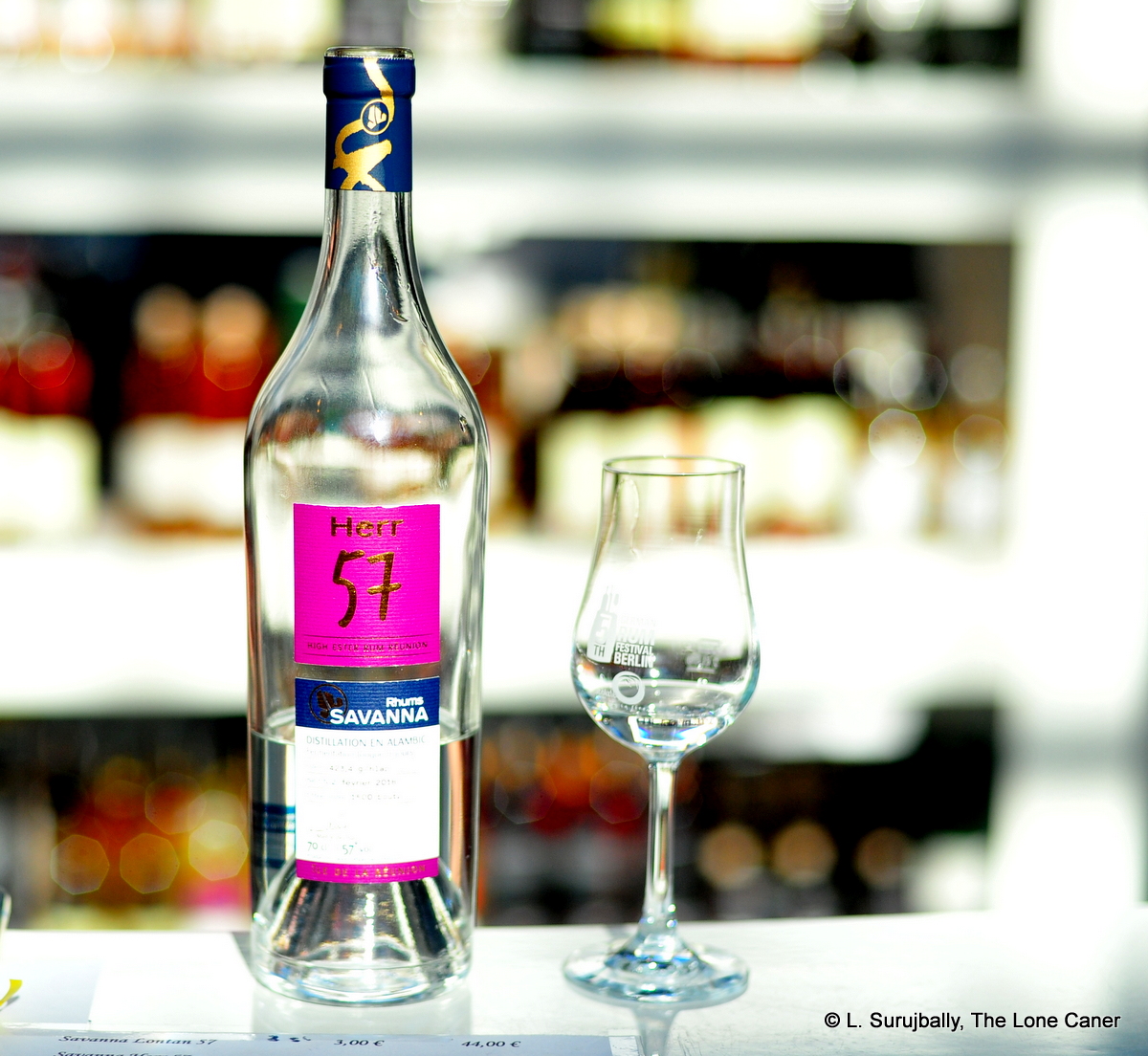 The distillery of Savanna (on Reunion island in the Indian Ocean) is putting out so many collections and individual bottlings, so fast, that even something as relatively recent as this rum from 2018 has very much fallen by the wayside, recalled by few but high ester rum geeks and Savanna lovers. It suggests something of the difference between them and an independent bottler, in that there is no single strongly-visible voice that stands in for them and their wares.
I make this point because when you come down to it, this rum is very similar to the Habitation Velier HERR unaged white, and yet many will remember that one and eagerly source it because of the cachet of the Velier name, while Savanna gets lost in the shuffle of its torrent of newer releases, the passage of time and the short memories of the pubic. Geeks know about Savanna….the rank and file of the casual rum drinkers would be hard pressed to find the distillery (let alone the island) on a map.
But I suggest this is an issue for the promotion by Savanna's own marketing and perhaps of truly curious rum fans, and the various bloggers out there. The fact of the matter is that any rum coming out of Reunion deserves a look, Savanna more than most, because of that completely badass high ester alembic pot still they have going in some shadowed corner of their distillery. Though most of their rums are column still distilled, though they produce rums from both molasses and cane juice, and even though they have Grand Arome, Creol, Metis, Lontan and Intense branded rums up to wazoo, every now and then they seem to want to go off the reservation and trot that alembic out to show off and produce a special edition just because, well, they can.
The 57 Batch 2 rum we're looking at today is one of a pair released in early 2018, whose only distinguishing characteristics from each other are the length of fermentation (11 days for this one), the ester levels (423.4 g/Hlpa for this rum) and the still that made it (the pot still, here). In that sense, I feel the purpose of releasing the two rums (we'll be looking at the other one in the next review) was somewhat more educational, to show people what a difference the three components could make when mixed and matched in interesting ways – both rums were released in early 2018, with an outturn of 1500 bottles and at a strength of 57º. The only thing I don't know and remains unmentioned anywhere, was if it was juice or molasses based.
Perhaps the tasting can help, so let's move right on to that. Nose first: short version, it's amazingly rich and fruity. It's very precise and crisp, with a lot of things going on at the same time: grapes, lemon zest, sugar water, watermelon, papaya, and also green apples, gooseberries and some yoghurt. There's a nice evocation of laundry detergent, of white sheets drying outside in a snapping wind on a bright and sunlit day and a nice background of nail polish, acetones and kiwi fruits to make things interesting.
Palate, nice, more of the good stuff : lemon zest, red grapefruit, sour cherry sweets, bon bons, loads of light florals, and gives the impression of a juicy green apple crunching between the teeth. Some sweet cider and mint, quite sharp, with few musky or softening agents here…which takes it down a peg or two for a lack of integration and balance (some will inevitably call it a crazy jumble of everything except the kitchen sink, which may not be far off), but overall, quite a hefty, piquant, pungent dram. I particularly want to draw attention to the long and lasting finish: this is fruity, a little sour, has a scent of pine needles and lemon dish detergent (this is not a bad thing, honestly) and like many high ester rums I've tried in the past (including the Jamaicans), gets a little bitter after a few hours in the glass, but overall, this is a minor complaint – the rum works, and how.
So there's a lot of interesting things about this rum: the pot still distillation, the level of esters which is just about spot on, and the really fantastic taste and finish. Apparently the rum was part of an experimental series which was initiated around 2005, at a time when such aromatics were confined to the bulk rum market and destined for confectionary or perfumes. Savanna tinkered with fermentation lengths, bacterial strains, durations, stills and came up with this severely pungent hooch which I guess they simply did not know what to do with (one wonders why chucking it into a barrel was not an option, but maybe some did, who knows?). While it is unaged by all standard definitions, it rested in inert steel tanks until the world changed around it and high ester rums became a thing — it is probably no coincidence that it was released in 2018, the same year as Habitation Velier's HERR White.
There are fair bit of reviews around about the HERR 57: WhiskyFun scored Batch 1 (from 2017, same ester count and strength) 84 points the year it came out and commented wryly that it was "unknown territory" for him. Alex Sandu of the Rum Barrel (rapidly turning into one of the better review sites out there), remarked on its incredible intensity of flavour and scored it a very high 92, and even Rum Ratings is littered with a few casual fans who erratically score and either love or hate the thing, but can't stop talking about it.
Savanna's rums appeal to me because of their variety: molasses based or cane juice, pot still or column, long fermentations or short, bags of esters or just a sprinkling…it's like everything that they make is on one end of the spectrum or another, a binary choice for all, and no middle ground to be seen anywhere. I kind of appreciate that kind of extremism which never takes the safe average but tries to push the boundaries. Savanna makes something for just about every palate and while some succeed and some hit the wall, there are very few that are outright bad or downright boring. Here they produced a rum that will force you to have an opinion — and mine, for the absence of doubt, is definitely positive. It's a hell of a tasty rum.
(#860)(85/100)
---
Other notes
Few sites I looked at mentioned the source but both Alex and Reuben noted it as being molasses

.

Still checking into it

.
1500

bottle outturn

.

Four batches in total were released by

2020,

each with the same ester count and strength

,

but different outturns

(

B#1

2300,

B#2

1500,

B#3 unknown

,

B#4

1400).