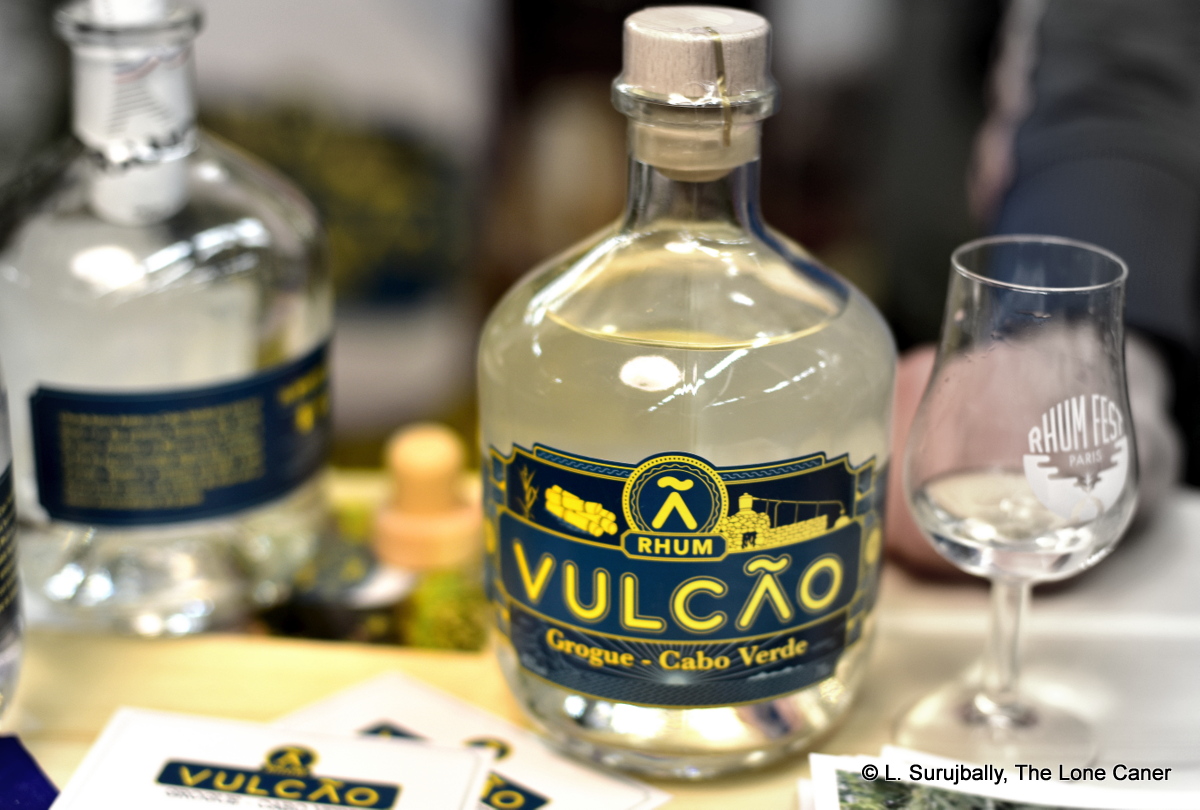 "Could grogue be the next clairin?" asked Dwayne Stewart in a facebook post the other day, when he and Richard Blesgraaf were discussing the Vulcão, and his respondent (you could almost see him smile) replied with a sort of yoda-like zen calm, "Clairin is clairin." Which is true. Because beyond the superficial similarities of the two island nations – the relative isolation of the islands, the artisanal nature of their juice, the mom-and-pop rural distillation of the spirit far away from modern developments or technological interference – the truth is that you could not mistake one for the other. At least, not those that I've tried.
Take, for example, the subject of today's review, the Vulcão grogue, which is nowhere near as ominous as its name suggests. If you have previously tried one of the four main Velier-distributed Haitian clarins (the Sajous, Vaval, Casimir and Le Rocher), marvelled at their in-your-snoot, take-no-prisoners ferocity and taste, and took Dwayne's question to heart, you might be expecting some kind of long-gestated uber-strong clear xenomorph hammered out of Vulcan's forge, that threatened to melt your tonsils. But it's not. In fact, it's closer to an off-beat agricole than anything else, and a particularly good one at that.
Even at 45% – which is practically tame for a clear rhum these days — the Vulcão smelled lovely, and started off with brine, thyme-infused water and lemon sherbet poured over a meringue cake. After five minutes or so, it also gave off scents that were creamy, salty, olive-y, with a dusting of white chocolate and vanilla, and as if impatient to continue, belched out some additional fruity whiffs — watermelon, pears, white guavas and bananas. There were also some odd minerals and ashes and iodine (not quite medicinal, but close), with overtones of sugar-water.
Short version – a yummy nose, and fortunately, it didn't falter on the palate either. It was strong, and quite dry, unusual for a cane-juice based rhum (last time I had something so sere was years ago, with the Flor de Cana Extra Dry white). The brine and olives really came out and made an initial statement here, and combined with the sweeter elements with impressive control and in well-nigh perfect balance, making for a worthy sipping rum by anyone's standards. With a drop or two of water came white fruits, flowers and sugar water, all of which were the slightest bit tart. And as if all that wasn't enough, there was a light creaminess of butter pastry, Danish cookies and anise hanging about in the background, reminding me of the freshly baked croissants Mrs. Caner so loves to have in Paris. The finish is rather subdued, even faint – perhaps we should not expect too much of 45% but after that nose and that taste I sort of was, sorry, and even though I noted almonds, toblerone, sugar water, nougat, pears, ripe apples, it seemed a bit less than what had come before. Not shabby, not bad…just not up to the same standard.

Anyway, finish aside, the development and movement the rhum displays on the tongue is excellent, first salt, then sweet, then creamy, well-balanced and overall a remarkable drink by any standard. It remembers its antecedents, being both a fierce and forceful rhum…but is also a nicely integrated and tasty sipping drink, crisp and clear, displaying a smorgasbord of contrasting, even competing, yet at all times well-melded series of sweet and sour and salt flavours in delicious harmony. Sip or mix, it'll do well in either case.
So, to answer Dwayne's perhaps rhetorical question with respect to taste and production details, my own response would be "Not really." While grogues are a fascinating subset of rums, an intriguing branch on Yggdrasil (The Great Rum Tree), they are too different — too elegant, maybe — to really be classed with or as clairins. They do share some of the same DNA: fresh cut cane juice and wild yeast fermentation (for ten days) and no ageing, for example, but also go in their own direction by using pot stills (as here) not columnar ones. What comes out the other end, then, are terroire-driven white rums with a character all their own, with this one, one of the best I tried in Paris, absolutely worth trying, and close to being an undiscovered steal. In the sense of that last statement, now that I think about it, I'd answer Dwayne differently…and tell him that they're exactly like clairins.
(#631)(85/100)
---
Other notes
I've put some feelers out regarding the company that makes it

,

and if/when/once this is received the post will be updated with some more factual background info

.

Made in in the Tarrafal village just south of Monte Trigo on the island of Santo Antão

,

the most north-westerly of the series of islands making up Cabo Verde

.

I was told five small

"

distilleries

"

exist in this tiny place

,

and three of them supply the grogue which is blended into the

Vulcão

.

Back label translation

:

The island of Santo Antao in Cabo Verde is undoubtedly one of the first cradles of cane spirits

.

Before rum or cachaca

,

it has been unchanging for hundreds of years

.

Distilled in ancient pot-stills made from pure cane juice

,

this rum ancestor is an extraordinary witness of the past

.