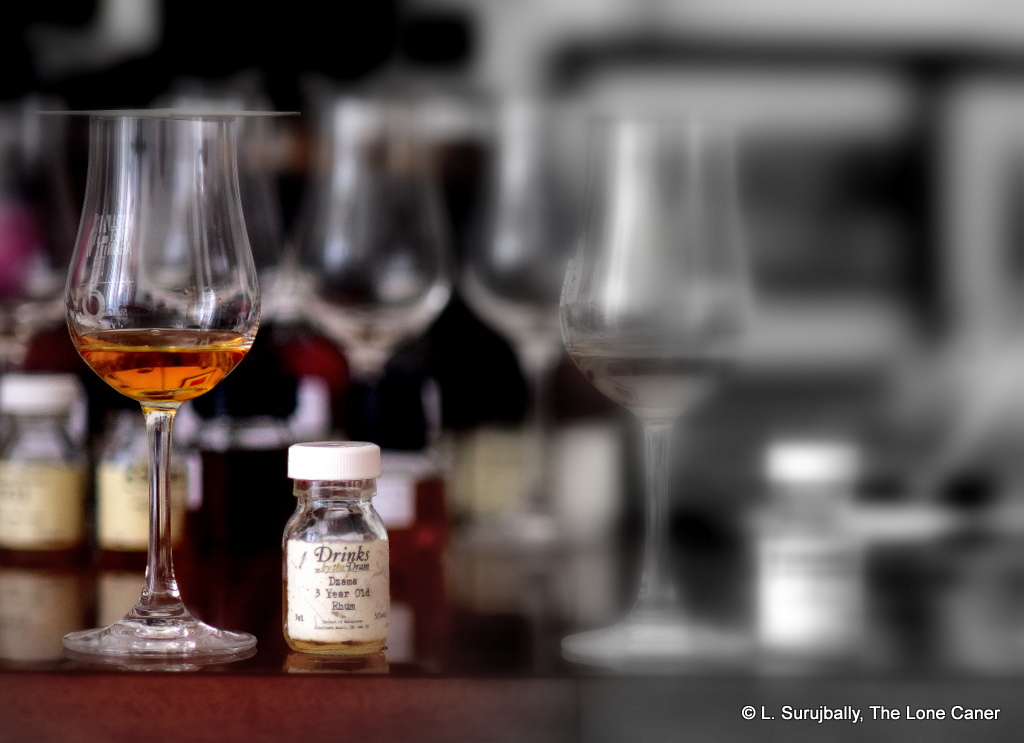 More than four years ago I wrote about the Rhum Vieux Millésimé 1998 10 YO made by Dzama and concluded that I was pretty stoked to see what else the brand had in the larder. It's taken a long time for me to make good on that desire, so here we have something lower down on the totem pole from the same company, and I thought it was a good effort, for all its youth and in spite of the niggly questions it raised.
Let's refresh the memory first: for the geographically challenged, Madagascar is that huge island off the south east coast of Africa; and the Dzama rums are made by Vidzar, formed in 1980 due to the efforts of Mr. Lucien Fohine, who noted that the small sugar factory on the tiny island of Nosy Be produced a distillate that had distinctive flavours which persisted into the final distilled products…mostly low level rum for local consumption, to that point. He concluded it came from the ylang-ylang plant (also known as the macassar oil plant, or the perfume tree) whose roots intermingled with that of the cane.
He formed a company Vidzar (a contraction of Vieux Rhum de Dzamandzar), which initially concerned itself with whisky bottling. It was located close to the sugar cane fields of Nosy Be, near to a village called Dzamadzar, but a few years later, as their operations expanded, they transferred production to Antananarivo (the capital, in the center of the island) The company, which now claims a majority of rum market share in Madagascar, makes a range of rums, including the Dzama Club, 3 YO and 6 YO, the Millésimé 1998 10 Year Old, Dzama 15 and 25 year old rums and a Cuvée Noire. Most of these are untried by the vast majority of rum drinkers, and remain relatively unknown, though many have won prizes between 2010 and 2015, in Miami, Paris, Berlin and Madrid.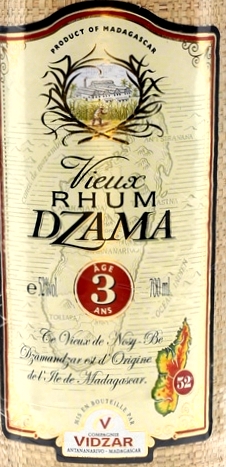 All that said, there isn't much on the company website about the technical details regarding the 3 year old we're looking at today. It's a column still rum, unadded-to, aged in oak barrels, and my sample clocked in at 52%, which I think is an amazing strength for a rum so young – most producers tend to stick with the tried-and-true 40-43% (for tax and export purposes) when starting out, but not these guys.
Now, the theory is that the oils and perfumes of the various botanicals to be found on Madagascar (vanilla, cloves, pepper are often cited) leach from their roots into the soil and are intermixed with the cane plants' own root systems, into their stems, and thence to the ultimate distillate. I'm no chemist or botanist, but one could just as easily wonder why similar processes aren't observed on the spice island (Grenada) for example, so I reserve judgement on that score.
Be that as it may, the nose is quietly rich for a rum aged a mere three years – not Velier-Demerara-go-for-the-brass-ring rich, just more than one would expect going in. This nose was initially redolent of creamy feta cheese, brine, red olives and cashew notes, and had a nice line of rotting bananas and funk coiling about in the background which provided an underpinning of real character. It also gave off subtler aromas of candied oranges, pears and other light fruits, just not enough to take over and make it a fruit bomb. But towards the end there was a more dominant element of toffee, coffee grounds and vanilla which I thought pleasant but overdone, especially since it was delivered with some real force.
Though it teetered right on the edge of being too hot, it presented a solid if sharp drink, an amalgam of salt and sweet…and a lot of brown sugar and vanilla There were bananas, strawberries, cherries, and some of that tart and creamy sensation you get from an unsweetened fruit smoothie made from, oh, firm yellow mangoes and pineapple. The vanilla remained, the coffee disappeared, and amusingly, I could actually taste sweet green peas. Much of the saltiness and nuttiness of the nose was gone, though still noticeable, and it did not unbalance the fruity aspects. The finish was where it failed, I thought – it was medium long, somewhat spicy, just rather mild, with closing notes of fruits, vanilla, salted caramel, coconut shavings, and a little citrus.
Well, what to make of this? The nose was decent, the palate was nearly as good, a reasonable drink even by itself….particularly if you like the hints of spices. Does that mean natural or other spices have been added? They say no, and hydrometer tests show no obscuration… but I can't help but wonder. Rums this young tend to be rather sharp and retain competing notes that saw across the palate, better off in mixed drinks than to have neat; the Dzama 3 YO was sippable and had the edge toned down, and for that to happen at that strength raises the eyebrow. However, in the absence of more information, I'll leave it there for now as a note for those who want to know.
That first Dzama I tried, the 1998 10 YO, had what at first sight seemed like an utterly standard profile that then expanded into something quite unconventional and interesting. The 3 year old is not on that level. The vanilla is a shade too dominant, and while fortunately having enough other taste elements in there to move beyond that, it remains ultimately straightforward. But it is, nevertheless, a good drink for what it says it is, and demonstrates that a rum doesn't have to be the latest Velier, Worthy Park or Foursquare juice, or from some independent's minuscule outturn, to be a rum worth checking out.
(#594)(80/100)
---
Other Notes
Wes was much more disapproving of the spiced profile in his review. It's his hydrometer test I referenced.