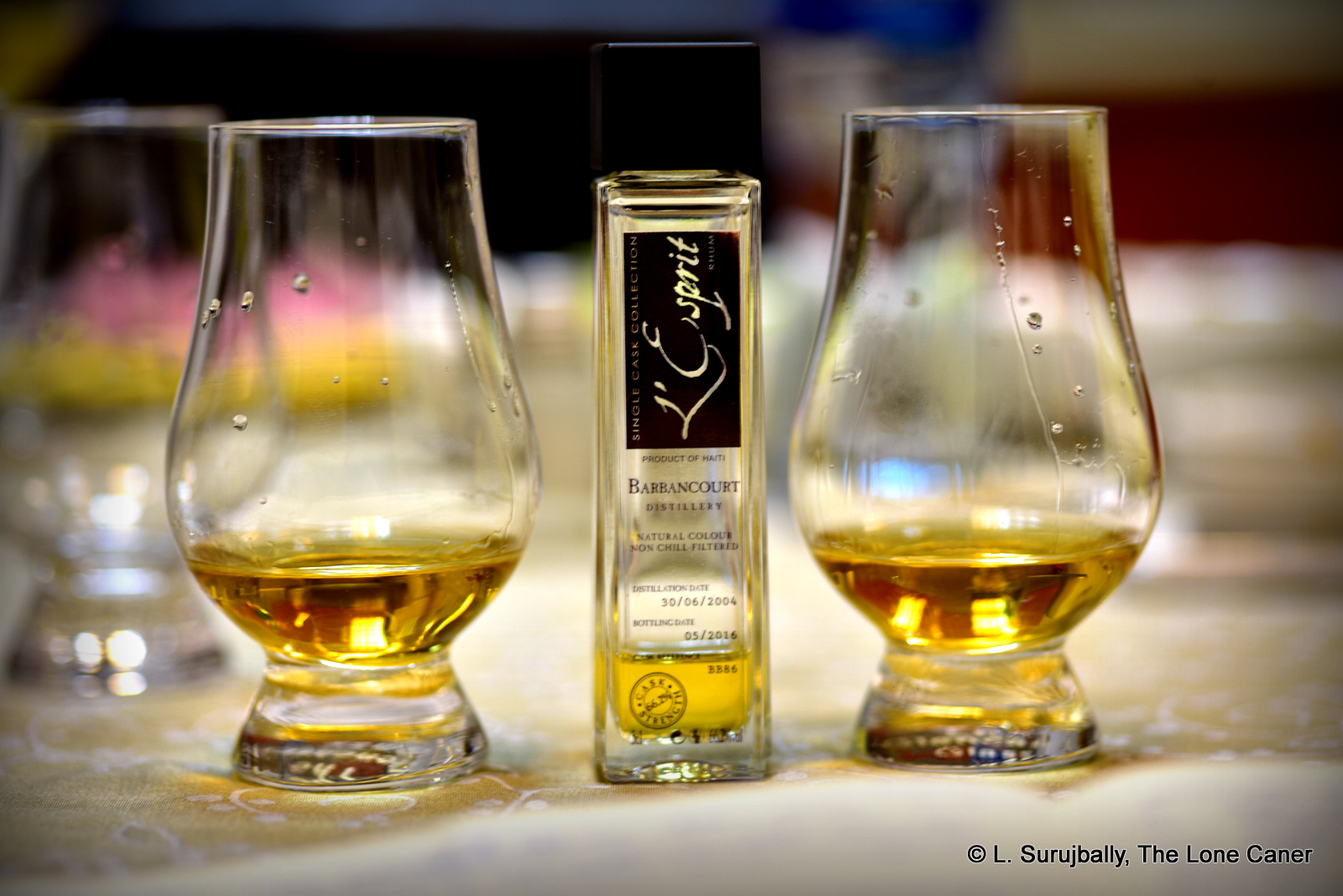 Let's move away from Jamaica, Barbados, St. Lucia and Guyana for a bit, and go back to a company from Haiti and an independent bottler out of France for whom I have a great deal of respect and affection: Barbancourt and L'Esprit respectively. L'Esprit, as you may recall from its brief biography, is a small outfit from Brittany run by Tristan Prodhomme, who has the smarts to issue all of his rums in pairs – one version at cask strength in a small outturn from the barrel, and the remainder (usually from the same barrel) at a diluted 46%, aimed at the somewhat more sedate rum drinkers who prefer not to get their glottis ravaged by something north of 60%. That this kind of canny rum release has real commercial potential can perhaps be seen in Velier's 2018 release of the twin Hampden rums with a similar paired ABV philosophy.
Even if you include the clairins, Barbancourt is the best known name in rum out of Haiti, and perhaps the most widely appreciated rum from the half-island by dint of being the most easily available (and affordable). It's usually the first Haitian rum any new rum explorer tries, maybe even the first French island rum of any kind (though they are not referred to as agricoles). Over the years they have, like many other estates and distilleries, sent rum to Europe in bulk in order to keep themselves afloat, though for some reason indie bottlings of Haitian rums aren't quite as common as the big guns we all know about – perhaps they send less stock over to Scheer or something?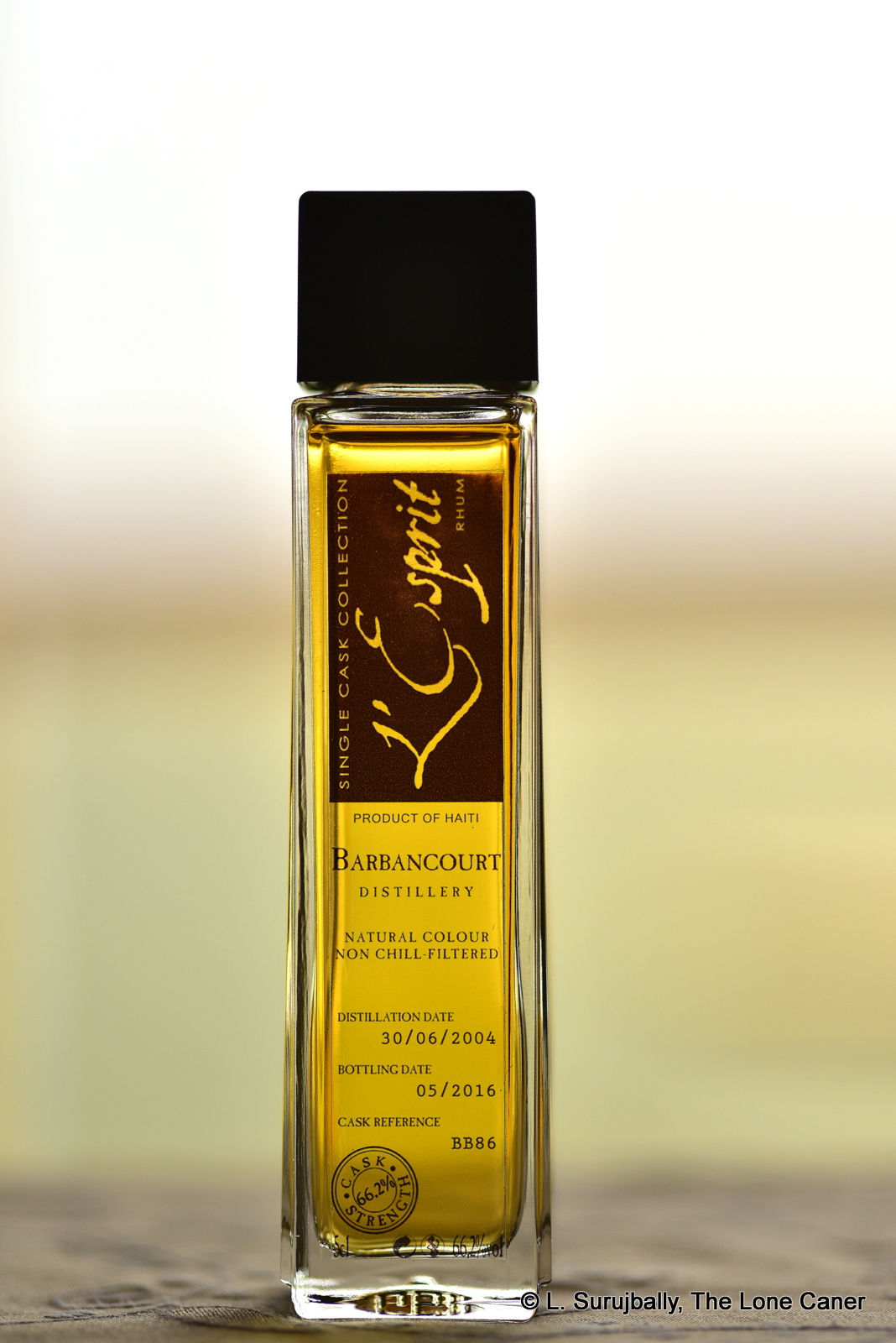 The bare statistics are brief and as follows: column still product, continentally aged; distilled 2004 and released in 2016 at a brobdingnagian 66.2% (its lesser proofed twin which is quite similar is bottled at 46% and 228 bottles were issued but about the full proof edition here, I'm not certain – less, for sure, maybe a hundred or so). Pale yellow in colour and a massive codpiece of a nose, deep and intense, which should not present as a surprise at all. It was quite aromatic as well – one could sense bananas, vanilla, prunes and fruit, with a nice counterpoint of citrus to set these off. Like many rums released at cask strength, it rewarded patience because after a while back-end smells of cream cheese, dark bread, brine, olives, nail polish, plastic bubble wrap (freshly popped), paint became much more evident, though fortunately without taking over entirely
The rather dry-ish taste was an odd experience, somewhat at an angle to what could be expected after smelling it: for one thing, it was more briny, and for another it actually had hints of pimento and pickled sweet gherkins. What distinguished it was its heat and uncompromising brutality. The flavours – which after a while included brine, florals, rubber, petrol and a meaty sort of soup (and we're talking strong, simple salt beef here, not some delicate Michelin-starred fusion) – were solid and distinct and took no prisoners whatsoever. That it also presented some sweeter, lighter notes of white fruit (pears and white guavas for example) was both unexpected and welcome, because for the most part the thing was as unsparing and unadorned as congealed concrete – though perhaps more tasty. As for the finish, well, that eased off the throttle a tad – it was sharp, dry, long, briny with more of those light florals, fruitiness, nail polish and freshly sliced bell peppers, and left you in no doubt that you had just tasted something pretty damned huge.
At this stage in the review I could go off on a tangent and ruminate on the difference between continental and tropical ageing, or how the added commercial value moves away from poor islands of origin to European brokers and independent bottlers, with perhaps an added comment or two on Barbancourt's history, L'Espirt itself, and a witty metaphor or three to add to those already expressed and tie things up in a nice bow. Today I'll pay you the compliment of assuming you know all this stuff already, and simply end the review by saying this rum is quite a flavourful beast, exciting the sort of admiration usually reserved for the sleek brutality of an old mechanical swiss watch. It's delicate even within its strength, clear, dry, and perhaps excessively eye-watering and tongue-deadeningly intense to some. But even though it's jagged as a blunt cutlass, my personal opinion is that it does Haiti and Barbancourt and L'Esprit no dishonour at all, and is a hell of a full proof drink to savour if you can find it.
(#543)(86/100)