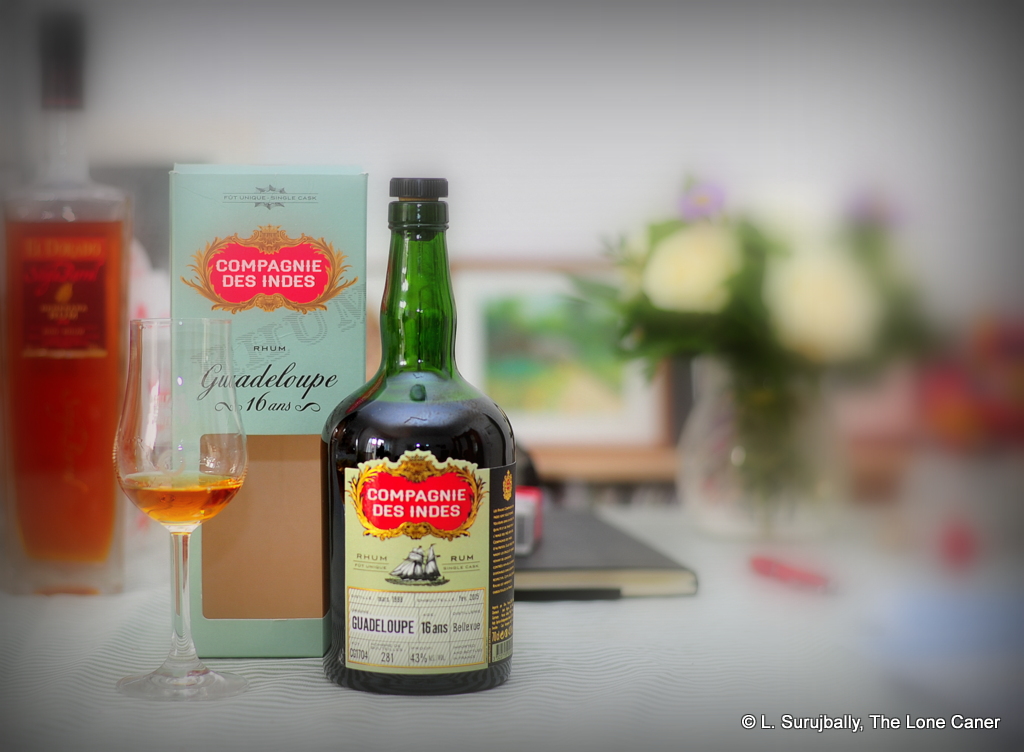 A lovely, light rum , as elegant as a Viennese waltz: it's missing something at the back end, but nothing that would make me consider telling anyone to steer clear.
Compagnie des Indes so intrigued me when I first came across their Cuban rum back in early 2015, that I've already looked at two of their more offbeat products (from Fiji and Indonesia), and have detailed notes on five more commercially minded ones, which I'll try to deal with in the next weeks and months (in between every other rum I want to write about). This one hails from Guadeloupe and is a solid entry to the genre without breaking too much new ground or attempting to reinvent the wheel.
Bellevue (Le Moule) is actually a subset of Damoiseau, and is separated from its better known big brother in order to distinguish its molasses rums from the cane juice products Damoiseau more commonly produces. It's located NE of Grand Terre (not Marie Galante…the other Bellevue which provided several iterations from Duncan Taylor and Cadenhead is there) . In 2015 CDI got in on the act when the issued this sixteen year old rum (it's a whisker short of seventeen), but have made no effort to distinguish the two Bellevues (except to me, because I asked to clear up my confusion…thanks Florent.)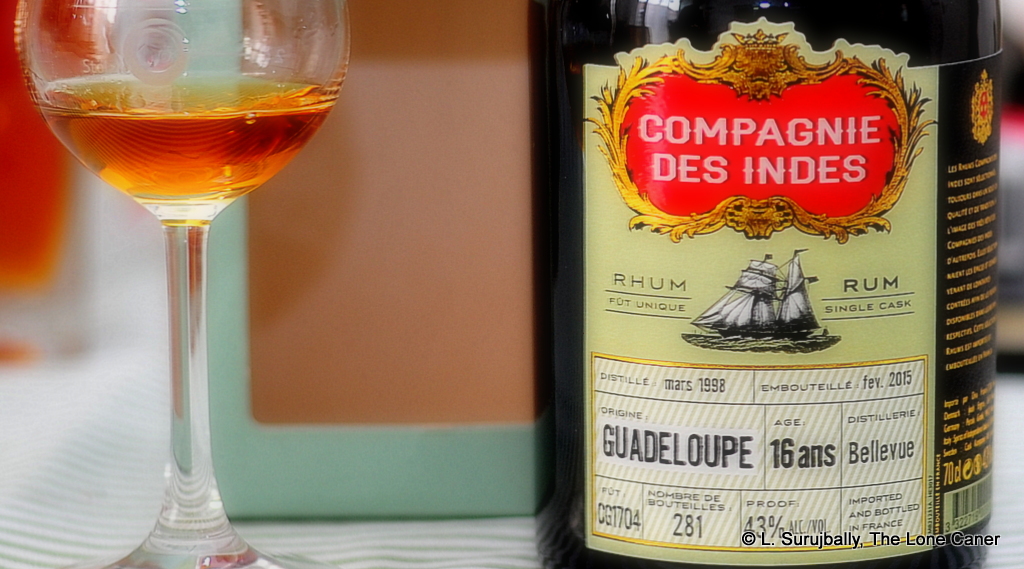 It's always useful to know ahead of time where an aged rum was in fact aged, because as many writers before me have pointed out, tropical maturation is faster than Continental ageing, and the resultant qualities of the final product diverge: Velier, for example, has always favoured the tropics and ages there, which goes somewhat to explaining the intensity of its rums; while CDI prefers more subtle variations in its rums deriving from a prolonged rest in Europe. Knowing that helped me understand the staid elegance of a rum like this one. The nose, easy and warm at 43%, presented soft and fruity without hurry, with some driness, cardboard, and pickles (yeah, I know, I know…). Pears, ripe apples and white guavas, with a hint of zest, something like tangerine peel mixed up with some bubble-gum, plus an undercurrent of burnt sugar lending a very pleasing counterpoint.
At 43% the texture of this golden rum was medium bodied trending to light, and pleasant for all that. It was unusually dry and a bit too oaky, I felt – the tannins provided a dominance that somewhat derailed the other parts of the profile. It started out a little soft — bananas, kiwi fruit and white flowers — before nectarines and fresh cucumber slices on rye bread emerged, which in turn gave way to ginnip and unripe apples and mangos. It took time to get all this and the integration of all these elements was not perfect: still, overall it was a perfectly serviceable rum, with a short, crisp, clear finish redolent of caramel, sugar cane juice, vanilla and more fruitiness that was light and sweet without ever getting so complex as to defy description.
There's a certain clear delicacy of profile that has run through the Compagnie's rums I've tried thus far. They do not practice dosing, which is part of the explanation – the European ageing is another – but even so, they are uniquely distinct from other independent bottlers who also follow such practices. This and the relatively low strength makes their rums possess an unhurried, easygoing nature that is not to everyone's taste (least of all full proof rummies or cask strength whisky lovers). This one in particular lacks overall development, but makes up for it with interesting tastes you have to work at to discern, and at end it was a rum you would not be unhappy to have shelled out for. At under sixty euros (if you can still find it) it's pretty good value for money, and gives a really good introduction to the profile of a Guadeloupe outfit with which not everyone will be familiar and whose rums are nothing to sneeze at.
(#271 / 85/100)
---
Other notes
Distilled March

1998,

bottled February

2015
281

bottle outturn

No additives

,

filtering or adulteration

.

Masters of Malt remarks this is made from molasses

,

not cane juice

.

Florent

,

when contacted

,

said

: "

Yes indeed it s a molasses rum

.

There are two Bellevue distilleries in Guadeloupe

.

One on Marie Galante producing cane juice rums

.

Another one at Le Moule producing molasses sometimes.

"