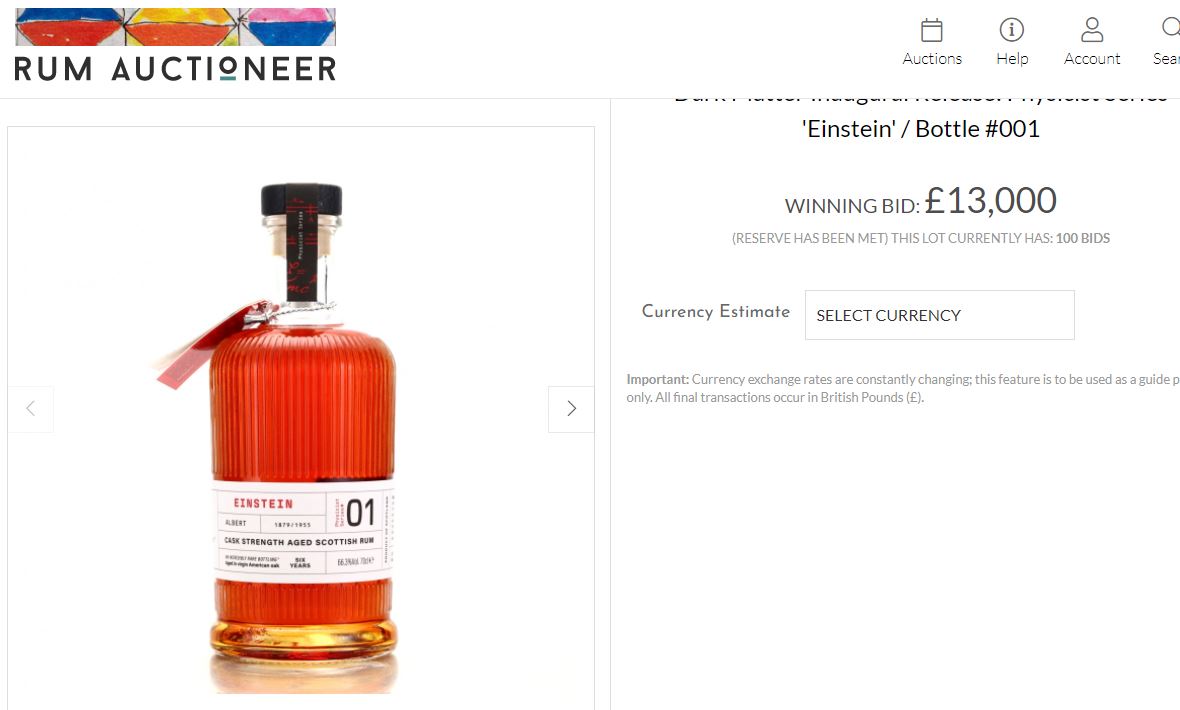 What the hell just happened? Did somebody really just pay five figures for a bottle of rum from a new distillery?
No more than a year ago when he took an astonished look at where rum prices were going on Rum Auctioneer, Ian Burrel humorously if rather crudely remarked that you could bottle RS's piss and still get a buyer and even more of it was Luca's (and I was told of one rum commentator who would probably thank them both for with tears in his eyes and buy all he could get irrespective). Now, we may have hit a new peak with the just-concluded November 2021 auction.
I saw the numbers, sat back and stared. So much was peculiar, even wrong, about the hammer price of the Dark Matter Physicist #001 "Einstein" Rum. And with good reason, because no two sane persons would bid up a single bottle of a rum to that level, and end up paying £13,000 for it. A Wray and Nephew 17 YO, sure, a Courcelles 1948, yes, a Velier Skeldon, done. But this…this defied not only logic, but common sense. Thirteen grand. Pounds! Either the buyer(s) had more money than sense (a lot more), or there was something else going on behind the scenes of which we are unaware.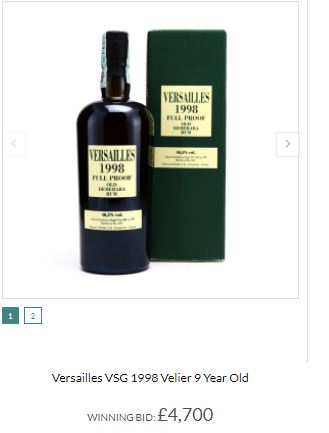 I mean, think about it – this is not a Velier Skeldon 1973, one of which sold for an equally mind boggling, (but perhaps understandable) £20,500 a few months ago. That one at least had some pedigree, an enormous reservoir of goodwill and positive reviews going back many years, released by a company with a phenomenal track record. That was why the lesser 1998 Versailles 9 YO sold an auction or two back for nearly five thousand quid – the painstakingly built reputation and street cred of the man and the company behind it. Does Dark Matter have that? No. Not even close. These were named "Inaugural" for a reason, because the distillery has never actually released a "real" rum before now.
Shorn of all the press, and with all due respect to what they have accomplished, let's be clear: it's a newish distillery in Scotland, making spiced and infused rums and liqueurs, but nothing like a range of rums which fans can admire and taste and compare. I have no problem with – and can't mark them down for – not being from the Caribbean, as lots of really good rums are not made in the Caribbean, though it's generally accepted that most of the well known and best rums come from there. It's cool that they are Scotland's first rum-focused distillery in ages, but come on, nothing in the company profile or distillation methodology suggests some sort of ground breaking technique that produces an elixir worth selling a kidney, and eye and piece of your genitalia for.
So, can it be the fact that it's a single amazing bottle, perhaps, like the near-priceless Caputo 1973, or the 2021-released trio of Foursquare "Sly" bottles, or "The Burrell" rums which fetched a "mere" £6,400 for both together in 2019, or even the better known Appleton 50 year old (which limped in on this same auction for £4000)? 1
No. It's calling itself Cool because it is the Very First, even though the other eight bottles from the line are all from the same cask (and yet other unnamed bottles comprise the rest of the outturn and we don't know where those are, so far). So making and naming the first bottle is somewhat less than unique, especially since we are hardly in a position to judge. It's a marketing gimmick from that perspective.
And the bottle itself is also not a special edition of any kind either. You know the ones that are: they're the ones that rest on silk pillows, in a gold-embossed, diamond-encrusted box made of polished purpleheart, that are made from hand blown glass designed and fashioned by Lalique, enclosing a fifty+ year old rum whose hand-harvested cane was tenderly drawn by ox-cart from the fields, individually hand-peeled before being manually fed into a crusher and thence the 400 year old copper pot still operated by maestros roneros with three centuries experience among them. Is it that kind of special? Nope, not that either. Aside from being nine single bottles with cool sounding names (at least one of which, by the way, is copyrighted, so I wonder whether they bothered to check into that), there is literally nothing to mark them out as something exceptional. Six year old rums released for the first time ever are not, I'm afraid, special. Not yet, anyway.
Putting all this together, then, there's something more than crazy about who paid that price. No bar-owner, connoisseur or dabbler in rum, no American ex-bourbon-fancying Foursquare enthusiast, no global rum nerd, no writer, reviewer, blogger, journo, judge or junkie, none of them, would realistically fork over that kind of gold for that rum. Not ever. Amateur buyers who get carried away with bidding excitement rarely have the money, and the rest of them know what value is, they watch prices like hawks, and are keenly aware of the resale value of anything they bid on. They bid for real value, and I'm sorry, but that kind of value does not arise overnight, even for a first edition – if it does, it's because the trappings and shine are worth more than the tipple within, or because Luca is bottling his chamberpot or something.
So if we exclude the buyers and the liquid and the bottle then I think, at end, this was something else. No matter what I might theorize, the fact is that somebody out there felt they gained something from this exercise.
Is it the distillery? After all, whoever bought the nine bottles, whether a company or an individual, one person or many, the knock-on effect is the same: an enormous upswell of free publicity for the company. You'll never be in the dark about Dark Matter Distillery again, because it's guaranteed that everyone ooh-ing and aah-ing about the coin fetched by those nine bottles, would have checked into the distillery pronto to see what was going on (as I did, for example). Facebook comments are already gathering steam, and this article will lead to the same end. So from the distillery perspective — they were the ones who sold the bottles directly through the RA site — it's all good, it's increasing their visibility by orders of magnitude. Too, if they themselves bought their rums back, it's a tax write off as publicity expenses; and if other parties did the buying the distillery nets a cool £41,800 less expenses. (Note: yes, I'm being cynical, but I'm honestly showing you where my thinking leads me – and to be clear, I have no evidence of any of this being the case).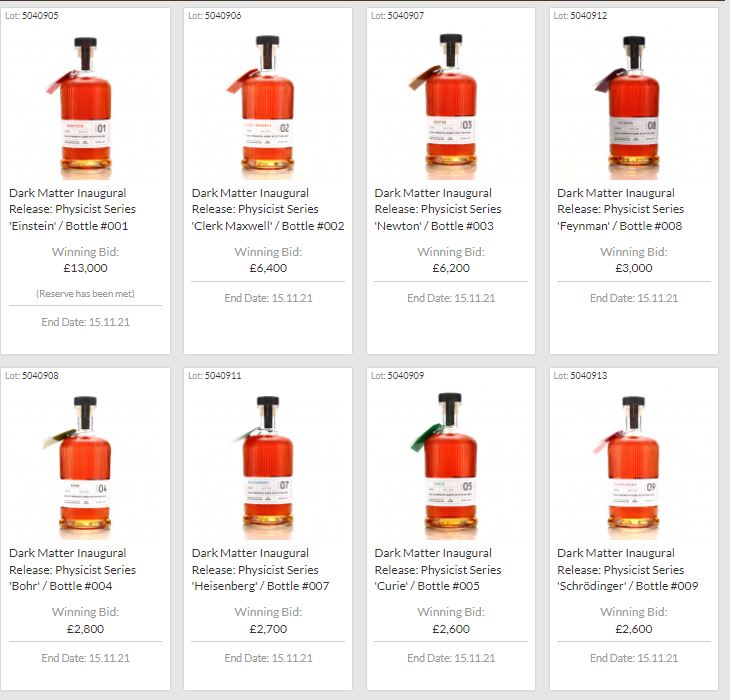 The auction site? They have a vested interest in ensuring the highest prices are paid (as did the distillery), and get commissions on a percentage basis of the hammer price from both buyers and sellers, and there gave been scandals on other online auction sites before this – bid rigging is not unheard of. Moreover, the matter of fake bids, bidder authentication and vetting process of RA was seriously called into question in the weeks following this auction (and the subsequent one in December 2021) in a long and passionate FB thread — as well as the comments on a poll that followed it — on the Rum Collectors group. This pair of posts was all about fake bidders becoming too prevalent and brazenly jacking up prices without any action by the website.
Nowhere was the word 'collusion' used and it is probably too harsh to make the accusation – but surely indifference by RA played its part in allowing this to become an issue. But no, at the end I don't really buy into the supposition of nefarious behavior — Rum Auctioneer' may have paid little attention to fake bids in the past, or tried to control it, but their own viability as a new going concern depends on privacy, trustworthiness and avoidance of scandal. Rigging is simply too obvious, and more importantly, Rum Auctioneer is a minnow: November 2021 might have been their biggest month with close to 2000 rums on sale, and nearly half a million pounds changing hands…but this is netting them a mere £83,000 or so in fees. This is dwarfed by the sheer scale of the main site Whisky Auctioneer where a single lot in the October 2021 auction had a value equalled by all of Rum Auctioneer's November sales, where anywhere between seven to ten thousand items are on offer, five figure prices are common and the money at the end is reckoned in six and seven figures. They hardly need to waste time trying to fiddle around in the rum auctions when so much money is sloshing around elsewhere, and in any case, why risk the visibility of something as stark as this when "bidding up" could be easily hidden elsewhere? So no.
If we discount either of these, then what we are left with is people who bought the rum(s) for purposes of their own that have little to do with drinking or sharing: collectors or flippers with deep pockets and shallow knowledge bases who think they can recoup their money in a few months by relisting the bottle(s). I think they will be in for a shock at that point. Ten years from now, who knows? Ten months, however…nah.
Let's be fair though. This is an Opinion, a conjecture on my part, caused by my not being in possession of enough facts (the big one being – who the hell bid, and paid, those prices?). I could be completely out to lunch. Maybe there really are some trust fund babies out there who bid against each other (at the close there were 100 bids on the "Einstein" and they sure weren't me or anyone I know), some petro-billionaires who got tired of buying paintings like "Salvatore Mundi" and didn't want to fork out for an entire distillery, some teenage Silicon Valley types who just got vested, or a newly minted tuhao who is now putting together the ultimate spirits collection. For them, this is a rounding error in the petty cash, not the serious money it is for most of us proles.
I just can't help but wonder. Like Ian, who in that above-mentioned post cautioned buyers about auctions, I've been uneasily watching the climb of online prices ever since Rum Auctioneer and Catawiki and other auction sites opened for business over the last few years: at the high end, the real rum lovers no longer stand a chance to buy the good stuff – more and more I get the feeling that it's collectors, speculators and flippers doing the buying (and reselling), early buyers of favoured rum producers selling their collections because of those same prices and because they need the money, or bids being inflated by people who have no intention of being left holding the bag. Maybe it's all bottle collection, or a flipper's long game. I hope not.
Whatever the case, Dark Matter's final hammer price bore no relation to any objective reality and seems to be a victory of money over sense (or appreciation). It's often said that in investing, past performance is no real guide to future returns. The lesson we can draw from this situation is that a nonexistent past performance can now generate major present value, and the future can look after itself. We should all worry about that.
---
In closing:
Normally we don't know if a rum was bought just so it could be turned around and recycled the very next month, but here we actually do: because there's only one of each of the Nine. If they pop back up for sale, we'll know why they were bought. If not, then we'll be able to understand that too. Maybe that's the best we rum aficionados can hope for, that one day the price of the Nazgul will seep back to some semblance of normalcy so we can buy them and decide whether they're piss or poison…or something that somehow earns that incredible value. I won't be holding my breath.
---
Disclaimer: I want to make it very clear that I am neither accusing nor making slanderous claims about any action taken by the parties mentioned in this post. This is an opinion piece that wonders what possibly could have happened, and why, and is a work of speculation.