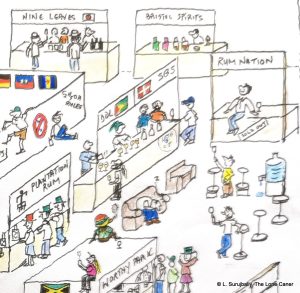 Attending rum festivals is one of the most cost-effective ways of sampling a wide variety of rums you might not otherwise have the chance to encounter, as well as (and perhaps this is just as important), meeting all your friends and other folks you've only texted, tweeted or commented with over long periods. It's not as riotous as a jump-up bottom-house, and not as staid as a formal tasting, but it's almost guaranteed that over a few days you won't be bored. Almost alone among major spirits categories, rum festivals are still modest enough for you to meet not just booth attendants and rum ambassadors, but actual owners and distillers of small startups (and many large concerns) who are happy to go to the nth degree about their rums, and often have something special squirrelled under the counter for those who show a genuine interest.
Since rum festival season is more or less upon us – the second half of the year has more, on balance, than the first half — it's perhaps a good idea to assess exactly what attending any one of them is likely to provide, and more importantly, what to do once you get there.
---
Like other spirits expos, rum festivals are usually held on a weekend, and often comprise of three main elements: there are usually pre-and post-show get-togethers at bars around the city (or even in people's homes, on occasion) that are enthusiast-driven and attended by aficionados of all stripes; then there's the main event which is held in a large-ish hall where booths are set up for vendors and distributors to tout their wares; and within that event are somewhat more specialised ancillary "classroom" sessions. In the larger festivals there's also usually a trade day (or half-day) tacked on at either end, where members of the industry – distillers, producers, distributors, buyers, agents, owners, journos and bloggers – get to go in without members of the public around. This is less a matter of elitism as one of practicality – it's difficult to talk business and do a hard sell when a long line of people are impatiently waiting their turn to take a snootful in front of a small booth with limited space.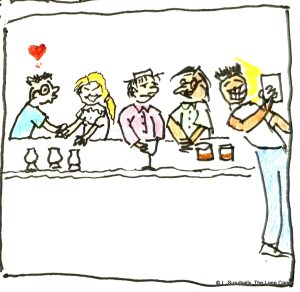 The "ancillary sessions" I refer to above are almost always seminars and masterclasses and if you're wondering, a seminar is an informative get together for anyone who's interested with maybe a tasting tacked on, while a masterclass is exactly what it describes. This is why when Richard Seale goes into the technical details of the endochronic properties of resublimated thiotimoline it's a masterclass (and usually leads to a thundering stampede for the exits five minutes in), while a run-through of six agricole rhums by a distributor is closer to a seminar.
All these events can be spread out over a week or, more commonly, two to three days. The recently concluded London TWE Rum Show was on Friday and Saturday with the Trade session between 12-4 on Friday and the public given access after 5pm, and 11am-6pm on Saturday. The Berlin festival, by contrast, tends to be 12pm-9pm Saturday and Sunday, with professionals or media people being let in an hour before either one. Most follow one or the other format, or, like the Miami Rum Festival, split it up into two half days sessions in two different venues, one for seminars, one for tasting.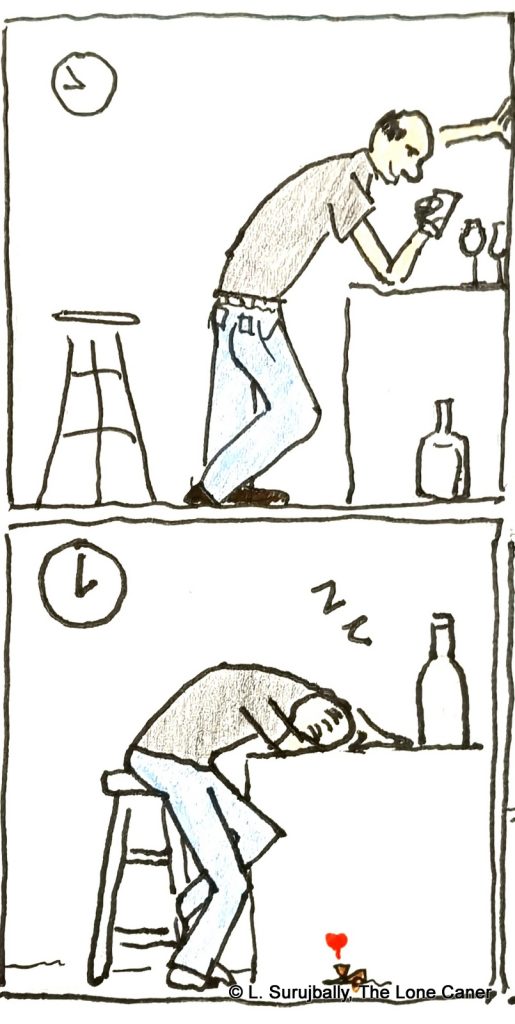 The Planning
What these facts point up, however, is the importance by a prospective attendee of at least some planning. Not all rum festivals have the same brands and companies in attendance, so it's worthwhile checking out what they have to offer. For instance, Brit festivals (TWE, Manchester, UK, etc) would have a stronger representation of British-made rums yet be shy of American ones, while American shows would not have much from the UK and Europe, would probably ignore most agricoles and the Far East, while being stronger on local producers and maybe South America. Berlin has always had a balanced representation of both as well as Latin America, Reunion and Mauritius; and Paris has been best at cane juice varietals, agricoles, grogues, and obscure small distilleries from Asia. Just about all festivals have their local in-country star boys and major international brands from the Caribbean – El Dorado, Foursquare, St. Lucia Distillers, Bacardi, Mount Gay, Flor de Cana, Hampden, Worthy Park, Appleton, Angostura and so on. Knowing these things helps you chose the rum festival holiday better, I argue, especially if one is not a resident of the city (or the country) in which the rum festival is happening. Fortunately, these days there are loads to chose from.
Secondly, with respect to planning, it's always useful figure out in advance if any of the seminars or sessions held alongside the main event are worth your time (not least because usually you have to pay to attend, though the prices vary) and address an interest…or not. Booking in advance is recommended because seating is almost always limited, and popular ones sell out fast – any session with Velier or Foursquare or Hampden tends to go quickly, for example, while something more esoteric like "Misunderstandings in the use of language regarding rum" can have you and the presenter having a good dialogue but not much else. I usually stagger the few I attend around both days to divide up the time, and find them particularly useful to provide a break in between very intense tasting sessions, as well as resting my feet.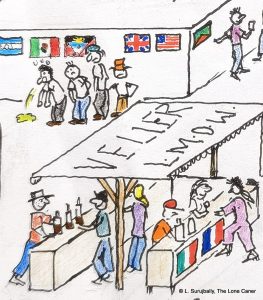 Thirdly, as noted above, unless you're okay with simply wandering around, talking to people and randomly stopping wherever it suits you, it is a good idea to know which specific brands and companies are exhibiting. There are several reasons for this. For one it helps you prioritise where to spend your time during a day when it is very likely you will be having more rum in a short period than usual. You may have an interest in Panamanian or Colombian rons, or French Island agricoles, or new American micro-distilleries, so would ensure you know those are represented and which brands are attending. Also, by the end of the day you'll have a good buzz on and your focus won't be top notch — so tasting those rums you really want to try and talking to people who really interest you the most is best done while some of your faculties remain. It's also good to remember that there are always some brands that are more popular than others and will always draw a crowd and it's difficult to get close enough to talk to anyone, let alone get a decent pour – therefore finding them early before they themselves get tired and irritable at repeating the same schtick for the umpteenth time is a good idea.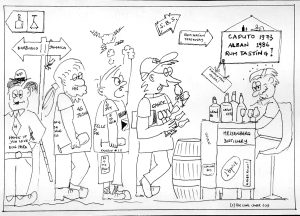 The Process
If this is your first rum festival or your fifth, the rules are the same for all of us more experienced hacks. Don't drink and drive and ensure you have your transport to home or hotel organised.
For experienced festival attendees – especially those in Europe who have several good ones in close proximity (Paris, London, Marseille, Manchester, Berlin, etc) that are relatively easy to get to and are really top class – it is no particular problem to get around, and I doubt the rules are different for other parts of the world, from Canada to Australia. As with all things, get a transport pass, have an Uber, or hang with folks you know who themselves know where they're going.
Also, I strongly recommend eating something before you set out. And take a bottle of water with you – most festivals provide (or sell) water, but why take a chance? Normally a tasting glass is provided at the entrance, and if you can snag a second one, take it. Trust me, it helps. 1. And while this might sound odd, I'd really recommend going with a friend or two, or a small group. The experience is enhanced when it's shared.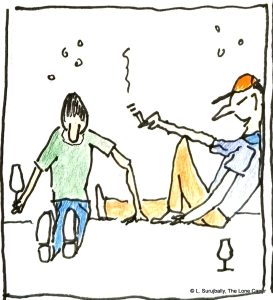 Once at the festival itself, one of the most important things to always keep in mind is that you will be there for a few hours at the very least (my personal record is seven) and be tasting a lot of rums, very quickly. Palate fatigue is a real thing, and so is intoxication, both of which derail the experience. Therefore, take it easy, take your time, and most of all, take small sips, and nose more than taste. Pace yourself. There are often black spittoons on or by all the booths so you can spit, and while I don't use them very often, I know their utility and don't think it makes me look like a rum snob at all. Spend as much time at a booth as you please, and talk to the (usually really friendly) people there, especially if you are interested in their products, because they'll always be happy to tell you all about their company, how they make their rums, and small anecdotes that make it all interesting.
Drink lots of water, and stop whenever you feel like it to take a breather and have a snack or a palate cleanser (if available). Keep an eye on the clock in case there's a master class you forgot about, because that's really easy to do when you meet up a bunch of rum chums and get to talking, or are standing in a line at the food truck for a sandwich and are focused on that and not the time. I've made that mistake a few times and strolled in just as everyone else was leaving, asking me where I had been the whole time.
I say take tiny sips, and I mean that. The objective is not to get drunk, not gun back shots as if you were at a bar – though getting at minimum a good buzz is a near-inevitability – but to be able to taste and enjoy the rums. Look around at the festival officials: girls and guys with lanyards and badges denoting staff, judges, guests, press, or exhibitors — they flit from booth to booth like butterflies but stay relatively sober because (a) they try tasting only what they like and are curious about and (b) they take small sips (if at all) and take their time with it. With some practise, you can more or less stay reasonably sober and attentive and still taste stuff hours into the rum fest without completely blowing out your nose or palate.
One other point I should perhaps raise is that of keeping your ears pricked and your eyes peeled, especially at the larger festivals where it's unlikely that you can try something from every single booth in the time available. Look for crowds, search for the brands you never heard of, the companies that are obscure (or from obscure places), listen to people talking, try and step back and take an overview to see where the new stars of the show are. There are always one or two new producers who are flying under the radar yet have a quality that should not be missed and which you'll regret not having tried after it's all over. Hampden and Worthy Park in 2017 at the German Rum Fest, Liberia's Sangar a year later, the new Asian rums debuting in Paris in 2018 (Issan, Sampan, Laodi, etc), Lazy Dodo from Mauritius, Toucan from French Guiana), and the new British rum distilleries in the UK festivals – all these had small footprints at the time but were considered bellwethers of rums and trends to come.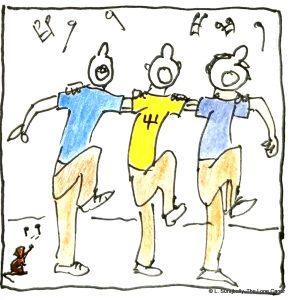 Party Time: bars, events, afterparties
One of the best things about being a part of the greater rum community, is the camaraderie and friendship surrounding the participants at non-fest off-the-grid little events. There have been many enthusiastic posts over the years about the Barbados Rum Experience, for example, and various pub crawls at one rum festival or the other, or additional brand-sponsored tastings where one can hear whole dissertations on new releases. When the world agricole rum tour was being organised by Jerry Gitany and Benoit Bail several years ago, Benoit arranged an opening of the 250th Anniversary Saint James agricole rum at the Brandenburg gate in Berlin…at midnight. Aficionados who know each other through social media and commenting and memories of excursions past, sometimes have little parties of their own, or meetups in famed rum bars someplace (Trailer Happiness, Lebensstern, Smuggler's Cove, Grandma Caner's apartment, you know the ones), for everyone who feels like it to attend. These are often more fun than the fests themselves and my strong advice is, unless you have a reason for not doing so, attend as many as you can, and party hearty.
There's no set rule for any of this and knowing where to go is mostly a matter of paying attention, plugging in, watching what influencers' websites and social media say about what's going on – which almost demands being a member of various FB rum clubs or instagrammers who put their professional rum lives out there. Sometimes all it takes is keeping ears open for conversations at popular booths, or knowing somebody who knows somebody else who mentioned that their friends are going to this or that establishment at such and such a time….
These events are rarely, if ever, about tasting rums…though of course that features in all of them. It's about hanging out with a bunch of like minded folks, and just talking, laughing, sharing experiences, and making new discoveries ("Man I tasted this rum the other day and it's fantastic, here, check out the sample!") that may not have been considered before. I have the greatest memories of listening to Yoshi Takeuchi tell a hilarious story in a bar in Paris about being mugged in Marseille, of meeting Sly Augustin at Trailer Happiness in London (and being enthusiastically hustled behind the bar to meet his Guyanese cook), or of manfully trying to remove the obstinate metal sealing on a bottle of a 1930s Martinique rhum at an afterparty of my own while Jazz and Indy laughed themselves silly (the rhum turned out to be completely oxidised crap), or of Florian showing off a sample of the legendary J. Wray & Nephew 17 YO at Lebensstern (while chasing away a particularly persistent hooker) but then being told "Sniff only!" You simply can't make sh*t like this up and the fact that I remember them so clearly says a lot about how much fun they all were.
Summing up
While I'm all for randomising the experience and just pottering aimlessly around a cavernous hall showing off booths in all directions, I honestly do believe that one can have the best and greatest experiences at fests, classes and surrounding events with a little bit of organisation in advance, some forethought on staying sober, and the complete willingness to just have some fun and go wherever the party is happening. Whether official tastings on a stage, or an unofficial get together in a sleepy bar at 2am where the rum is flowing and the conversation is cheerful, it's an experience to be savoured.
And if your sleep gets interrupted and you go on short rations of energy and sobriety for a few days, well, isn't that what it's really all about at confabs like these? We must all make some sacrifices in the name of creating new and cherished friendships, and memories. I've got tons of my own, and that is why I wrote this, because there's absolutely no reason you can't too.
---
Other notes:
Click on the link for a listing of as many

rum festivals around the world

as I could find

. (

Currently lists

2023

expos

)

A US reader on the

/

r/rumserious subreddit

asked me which fest he should attend given his lack of language ability

.

That was a question that had not occurred to me in writing the essay

,

but it is useful to know

,

so I responded at some length

:"

You need have no fear

[…]

because English is spoken across Europe

[

and Asia

]

as a second or third language

.

Moreover

,

booth exhibitors

—

who are often owners themselves

,

for smaller outfits

—

are often to be seen at rum festivals around the world

(

or at least around Europe and the USA

)

and almost always speak good English

.

If there is a language barrier at all

,

it's with cashiers

,

security

,

cloakroom attendants and the support staff

,

but even there

,

there's usually one person who can be called on to help

.

I've found it particularly helpful in

,

say

,

Paris

,

to simply respond to

"

Bonjour

"

with

"

Hi there

,

how are you

?"

and then they know instantly they are speaking to a non-native speaker and adjust

.

That said

,

some

–

but not all

–

masterclasses and seminars take place in the language of the country where the festival is held

,

so if you plan to attend any and must pay for the privilege

,

ensure you check beforehand

,

especially in the smaller and regional ones

(

like in eastern Europe

)."
---