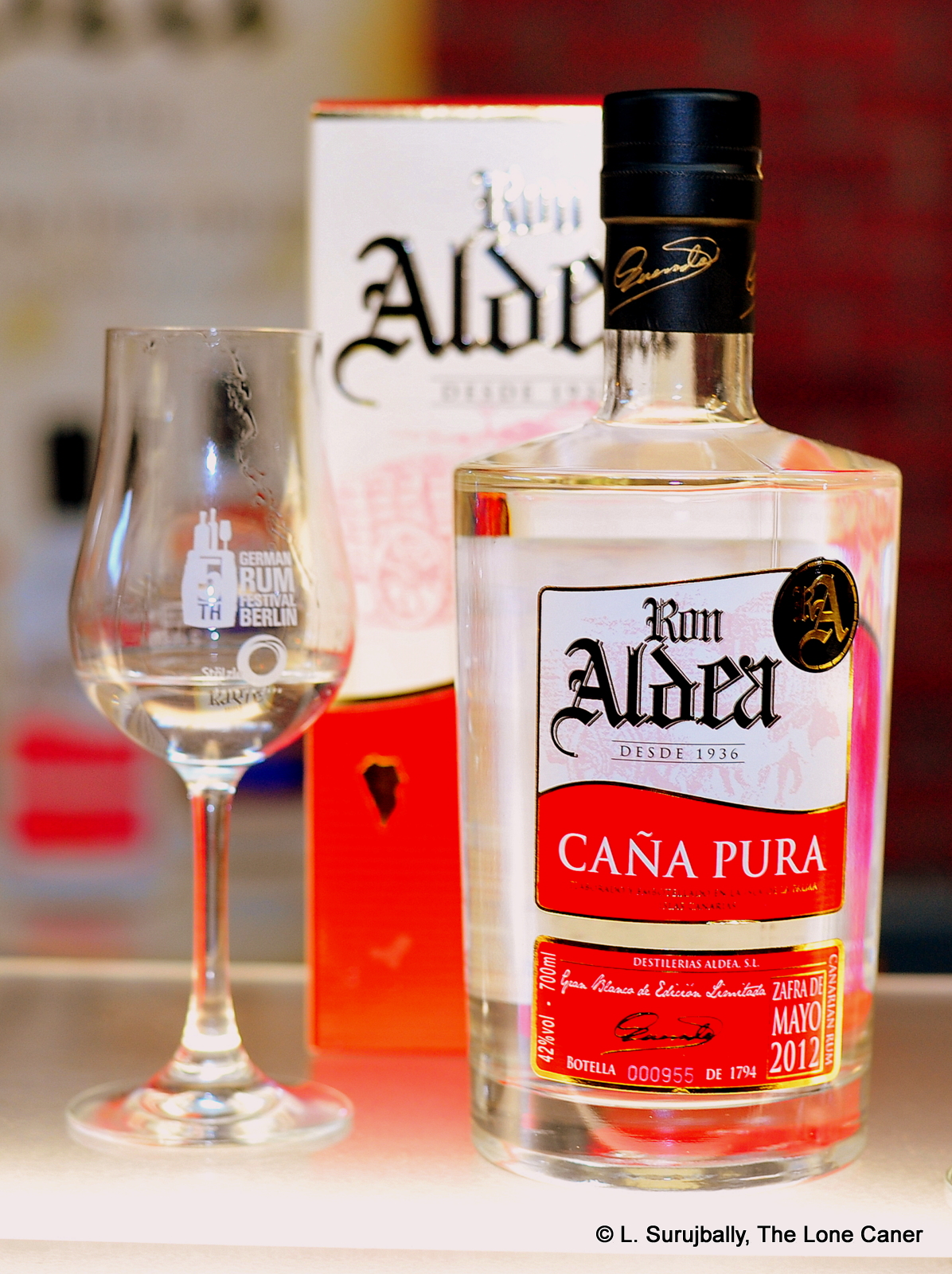 The confusion as to what this white is meant for – a soft mixing rum, or an intro to individualistic macho – makes it, paradoxically enough, falter at both.
#310
You can imagine my surprise when I ran through the Ron Aldea line of rums from the Canary Islands last year, and after talking to the genial guy at the booth at my usual inordinate length, realized with astonishment that here was Santiago Bronchales, who previously was deeply involved with Ocean's Atlantic, a rum I had thought was perhaps too overambitious for its own good, if reasonably drinkable. Once he realized that I was the guy who had pestered him with no end of emails about his previous offering, his face split into a grin, and he carefully ran me through the entire history and lineup of the Ron Aldeas rums.
The Caña Pura — "pure cane" to you non-Spanish speaking folk reading this — is a white rum, bottled at a rather timid 42%, unaged and in this case limited 1794 bottles (for a reason I'm still researching). All of the Aldea rums are rhums, true agricole-style rhums, distilled from fermented cane juice to 62% in a double column copper still made by the French firm Egrott, which Santiago helpfully informed me is 150 years old and powered with a wood-fed fire in the Canary Islands.
"Clear", "white" or "silver" rums are gaining in popularity as people realize the same old industrially filtered milquetoast we all grew up on is not all there is to the uncoloured rumiverse. Haitian clairins, Cape Verde "grogue" and just about every bathtub distilled moonshine with a label slapped on that's ever been made are leading the charge with the word "artisan" and "natural" being bandied about as major selling points, and full proof versions of such rums sell briskly.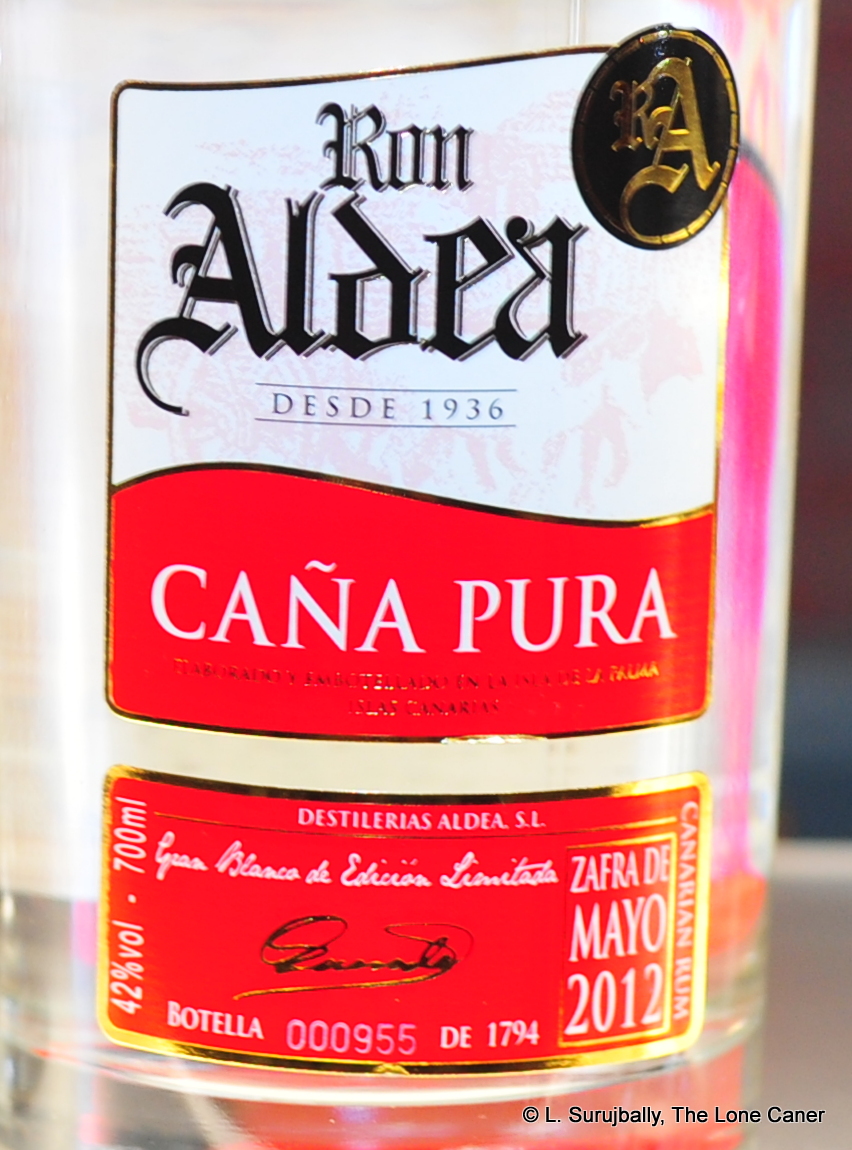 Unfortunately, this rhum isn't part of that revolutionary vanguard of the peasants charging the barricades or assaulting the Bastille. It's more like a timorous, vacillating, middle-class bystander hoping not to get creamed in the chaos. Part of that is the strength, which at 42% doesn't give much – the nose, for example, was quite weak, sharp on the initial sniff, with flashes of flavour peeking through….salt, olives and wax in the beginning, melding into sugar water and tree sap with some very light fruit after a while, mostly white guavas, a pear or two, and some vanilla.
While I liked the palate more than the aromas, I felt it was still too harsh and sharp (and a little dry, oddly enough). The flavours opened up quite a bit more here: sweet sugar water, lemon zest, more briny olives, followed by cucumbers, pears, and there was some watermelon in there somewhere, hiding and refusing to be isolated, preferring (if I can extend the metaphor) to hide behind the other bystanders. The finish: short, sweet, watery, more of the same.
Overall, this is not a narcissistic halo rum meant to laugh in the face of the musketry while joyously singing the "Arrorró" (so look it up). It lacks the huevos for that kind of thing, and feels more like something tossed off to round out the portfolio (but if that's the case, why the limited edition of 1794 bottles?). One could argue that a low-proof unaged white isn't going to provide much so why write so much about it, but I dispute that, having had some crazy barking-mad hooch in my time – they were never top scorers, and never will be, but man, they sure had character. That's what's missing here.
In the main, then, the Caña Pura is more for the curious who would like to try something in between the more forceful French island blancs and the wussy mixers of the North American market. Personally I believe the rhum could – and should – be left at the initially distilled and torqued-up 62% which would certainly make an emphatic fist-on-the-table reverbration in today's world. Even at 42% it's too tame and too quiescent, nervously peeping over the fullproof fence without every taking the chance to go there. That doesn't make it a bad white mixing rhum, but not a top-tier one either…and it does leave us wondering rather wistfully what it could have been.
(80/100)
---
Company bio
The company itself, Distilerias Aldea S.I., is a 4th generation family-run outfit, founded in 1936 by Don Manuel Quevedo German, who was born in 1872 in Arucas, a small northern village of Grand Canary, and whose family seemed to have some energizer bunny in the gene pool, surviving the closure of just about every sugar operation with which they were associated over nearly sixty years. Don Manuel moved to Cuba and Santo Domingo as a young man and apprenticed in sugar mills in both places before returning to Gran Canaria, where he worked with his father an uncle in the Bañaderos sugar factory. This facility was closed and shipped to Madeira in the sugar slump of the 'teens and by 1920 all the main sugar concerns in the Canaries were out of business. After the factory in Madeira in turn got shuttered in 1934, Quevado returned to the Canaries and took his accumulated experience to open his own operation…which also went belly-up in 1960 for various economic reasons, but which his sons restarted in La Palma in 1969 and has kept going ever since.
Other notes
I don't know if it is filtered or not, or added to. I've heard that some mark it down for a certain sweetness and too little originality. I'll update this review when I find out.
The rum will be renamed "Single Cane" for the 2016 release season and onwards.