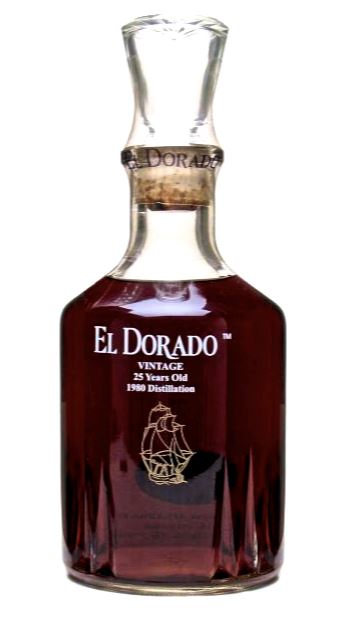 This review was written in 2010 for the online rum magazine Rum Connection, and I add it here for completeness.
F. Scott Fitzgerald famously noted that the rich are different from you and me. The same could possibly be said of premium rums at the top of the scale. They are so different, represent such an investment of time and effort, and are usually in such short supply that they come to represent something of the pinnacle of achievement in rum blending and production. Something rarefied, something out of the ordinary box in which most aged rums are placed. Something really, really special.
Such a rum is the El Dorado 25 jahre alt, der ersten Sichtung 1999 when the Millennium Edition came out. Just think of what that means. A full three years before the first stocks of the groundbreaking El Dorado 15 year old were put away (it came out in 1992 and so was set in motion in 1978), some farsighted visionary selected the barrels that held the rums which would eventually make their way into the first bottles of ED25. When the original blends were first casked, there were no personal computers, no cinema multiplexes, no ipods, cds, dvds or cell phones, and the premium rums that so dominate today's high end market were barely a glimmer in someone's eye. Five American presidents passed into and out of the White House while the casks slumbered and aged in DDL's warehouses.
The ED 25 I reviewed here wasn't the millenium edition but a more recent vintage (1980), und, perhaps as befits the pricey top end of the range, doesn't skimp too much on the presentation (though I believe it could do better, and it seems to adhere to DDL's philosophy of presentational minimalism). It arrives in a glass decanter quite unlike any other bottle in the El Dorado range, and fits tightly into a black cylindrical tin. The bottle is sealed with a glass-topped cork, firmly seated. Nizza, Sehr schön. Full brownie points for this, though it doesn't equate to the bottle-lying-on-a-bed-of-satin in a blue box such as the Johnnie Walker Blue Label arrives with (and for a hundred bucks less for that one, you kinda wonder about that, aber das macht nichts).
The ED25 poured into the glass in a dark-brown cascade of liquid expense. At $300/bottle in Alberta (more in Toronto, I guarantee it, assuming it ever gets there), it was a pretty expensive shot no matter how little I decanted. Auf der anderen Seite, it was worth it. Nehmen Sie die Nase: Demerara rums are noted for thick, Dunkelheit, molasses-based structure, and El Dorados pretty much pioneered the profile, aber hier, it was almost delicate. Irgendwie, DDL's master blender managed to mute the inevitable alcohol sting of a 40% Zimmer, dampened the sometimes excessive molasses scent, and created a complex nose that was a mixture of fresh brown sugar, Karamell, Orange, banana and assorted fruits. And I'm not talking about a mango, or apple or guava, but that mixture of fruits that gets into the best West Indian black cake served at Christmas time and weddings. Damn it was sexy. While I'd had the ED25 before, I had been in a hurry that day and trying it along with five other rums – so sampling it again under more controlled conditions permitted a more analytical tasting (if a less enjoyable one, given the absence of good friends), where notes I had missed the first time came through more clearly.
No discussion of El Dorado rums can be complete without mentioning their famous wooden stills, and the care DDL took to ensure the survival of the various stills from plantations that once produced their famous marques. Hafen Sterben, Uitvlugt (pronounced eye-flugt), Enmore, Versailles, LBI, Albion, Skeldon…the names are like a roll call of honour for marques now almost gone. These days only a few are in continuous commercial production (ICBU, PM and EHP are the most commonly found), none on the original estates. As the individual plantation distilleries closed down and were consolidated at Diamond Estate factory complex over the decades, DDL moved the entire still from the closed estate factory to Diamond. DDL operates eight different stills each with its own profile: six columnar stills, of which four are Savalle, and one is the last wooden Coffey still in existence; and two wooden pot stills, also the last in the world. From these still come rums with clear and definable characteristics that still reflect the tastes and characters of their original plantations, where they were once made.
Das El Dorado 25 year old is a blend of rums from many of these stills: the Enmore wooden Coffey columnar still; the LBI and Albion Savalle stills; and the double wooden pot still from Port Mourant. Each brings its own distinct flavour to the table. Und am Gaumen, they emerge like flowers in the desert after a rain. The rum emerging out of the blending of product from all these different stills was full-bodied, oily and coated the tongue from front to back. It was smoother than just about any other rum I had ever tried. I'm unfortunately not able to separate which taste emanates from the rum coming from which still, but I'll tell you what I did taste: Lakritze, Karamell, Melasse, brauner Zucker, burning canefields at harvest time, und Backen Gewürze, faint citrus together with the scent of freshly grated coconut. The tastes ran together in a dark, rich mélange that were enhanced with a sweet that may be the only negative I have to remark on this superb rum. I love the Demerara style – dark, full bodied and sweet – but the ED 25 is loaded with just a shade too much of the sugary stuff, and looking at my original tasting notes from six months ago, I see that I made exactly the same observation then. Darüber hinaus, the thing is phenomenal.
The fade is similarly excellent. Lang, smooth and with a gentle deep burn that releases the final fumes and tastes to the back of the throat in a voluptuous sigh of completion. This is without doubt one of the best goodbye kisses I've ever experienced from a rum, and I still think of it as a sort of baseline to which I compare many others. The loveliness of the complex nose, of taste reeking of class and sundowners, of a finish redolent of warm tropical nights on a moonlit shore, makes one want to laugh out loud with sheer delight.
At the top of the scale in any endeavour, ranking the best becomes problematic. When trying to assess the ED25, the relative comparisons are inevitable. There are certainly richer or more varied noses on other premium rums (Englisch Harbour 25 ist besser, and I do have a soft spot for the Appleton 30); there are rums with more complexity (Berg Homosexuell 1703); better body and taste (Rod Blume 18, perhaps Clemente Tres Vieux for some), and for a finish, can anything beat the Gordon & MacPhail Jamaica 1941 58 yr old? But if you hold the "best" hostage to any one criterion, then you're shortchanging the rankings, and will get nothing but vagueness. For a rum to ascend to greatness, it must be well-rounded, with near-excellence (if not actual brilliance) in all categories. Appearance, Farbe, Körper, Geschmack, Nase, Balance, grace, emotional appeal, personal attraction and a certain timelessness…that's the mitochondrial DNA of such a rum, and what comprises its core amino acids.
Ladies and Gentlemen, I present the El Dorado 25 jahre alt. In the opinion of this Demerara-style-loving reviewer, es ist, ganz einfach, one of the best rums of its kind ever made.
Aktualisierung, Mai 2020: Deutlich, in the years that passed between the time this exuberant review was written in 2010, and the time I tried another one in 2018, my opinion on its excellence changed (downwards). But as a signpost in how preferences and an appreciations of a rum can change with time, this serves as both a useful signpost of "Vor" and a cautionary tale of starting with high end rums too early in one's career before proper groundwork and wider experience is gained.