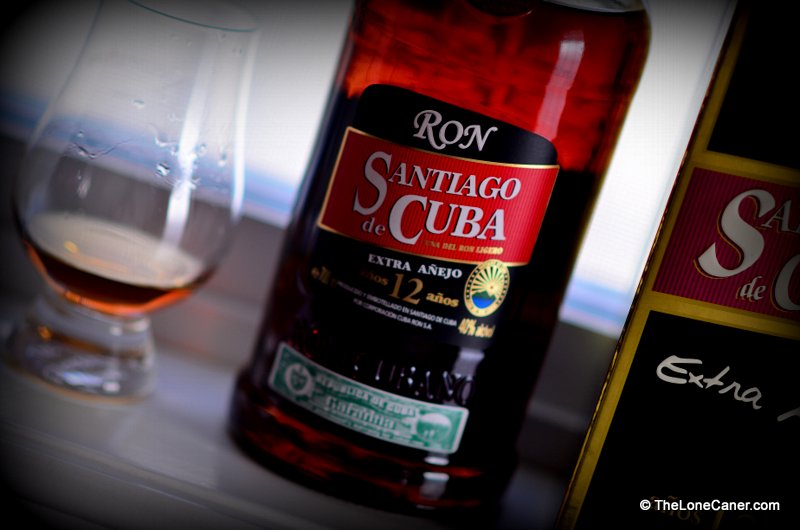 Very few discordant notes in this excellent 12 year old…just perhaps a little less intensity than I'm after, maybe a shade less complexity.
(#157. 72/100)
 ***
The Cuba Rum Corporation's 12 year old rum is a very well put together product that reaffirms my belief that if the US embargo is even lifted in part, rums should be high on the list of products allowed into the country just so those poor souls south of 49 can see what they've been missing. This rum is proof that Cuba remains high on the list of nations making some of the best rums out there.
Other bottles in the Santiago line made by the CRC are the Anejo, the 11 year old, 20 year old and 25 year old, and while it is dangerous to imply on the basis of a single tasting how others in the series turns out, all I can say is that after sampling this one (provided by my friend Antonio after he returned from the Island, in a rum tasting session at my house that was quite epic), I'm really looking forward to checking out all the others. Because this rum is very good indeed, even if it could (in my sole opinion) be made a shade stronger than the 40% at which it stands.
Lighter than some of the Demeraras I've been trying recently, but more assertive than the softer Bajan and Panamanians, the 12 year old had a lovely mahogany colour with ruby hints, which swirled thickly in my glass, releasing a very pleasant, pungent nose of muted orange peel, cherries and sweet, light flowers. These initial scents blossomed into a rich and fruity aroma that presented notes of cherries, vanilla, coconut and (if you can believe it) cola. In its own way, it released both perfumed and deeper caramel scents, with hardly any smoke or tannins at all.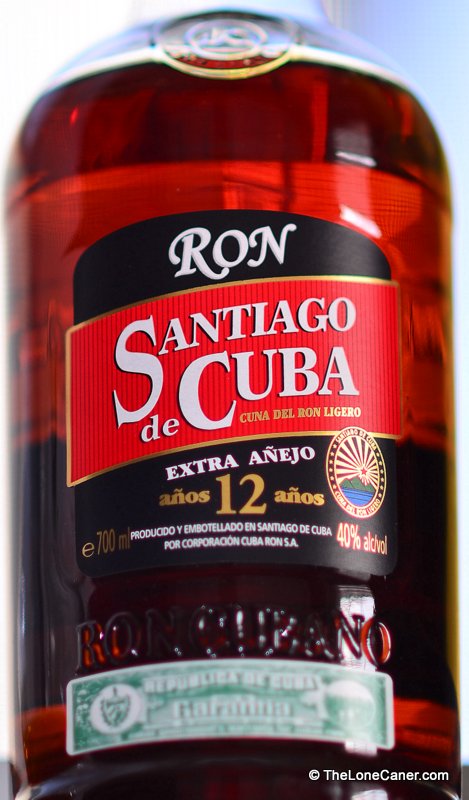 As for the arrival, that was amazing. Smooth and yet heated, warm and inviting on the palate. Based just on the colour, I would have expected it to be thicker and heavier to the taste, yet it was actually a bit light and dancing as all get out, as if I had seen Jack Black turn into Gwynneth Paltrow. Some smoke, nuts, caramel, papaya and brown sugar were the various commingling notes I was tasting…but what I want to emphasize is something of the overall balance and harmony these flavours achieved, the way they merged into a mouthfeel that was, quite simply, luscious. A medium long exit left behind fond memories of caramel, ripe yellow fruits and a faint perfumed note of citrus that faded only reluctantly.
This relatively dark coloured, light tasting rum could probably be bettered, but for the life of me I don't see how unless it is to torque it up a shade. The boys who make the Santiago line – I read that the rum is made in the old Bacardi facilities which the family left behind after the Cuban Revolution – have taken the light rum methodology pioneered by the old maestros and created something quite spectacular here: its Gold Medal at the 2012 Berlin RumFest was probably no accident. It succeeds at many levels – nose, taste, mouthfeel, finish – and though perhaps my tastes these days run to somewhat stronger fare, I can't argue with the results contained in this bottle.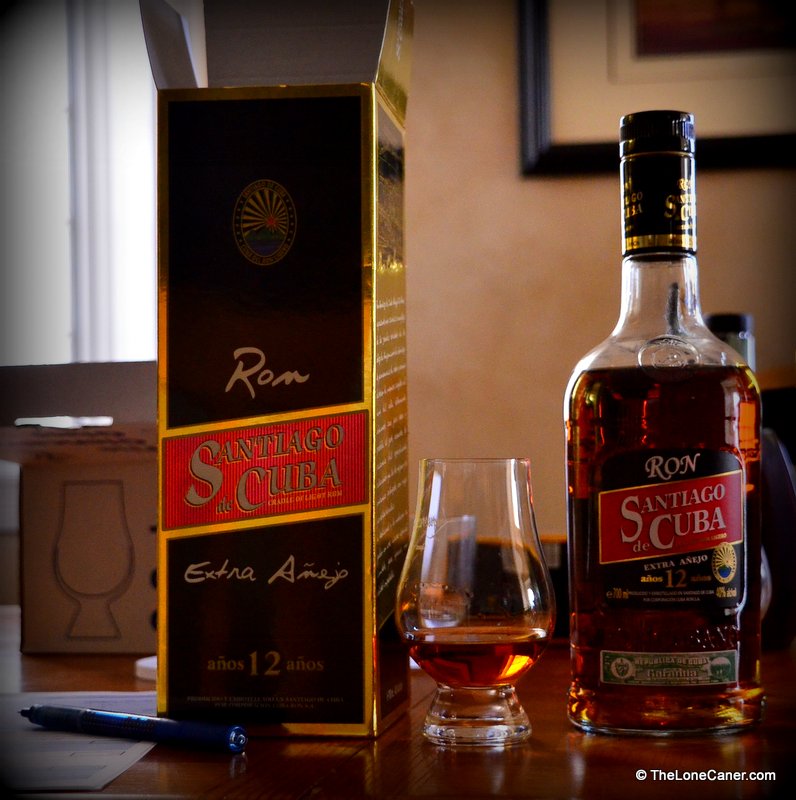 I came across a reference online that the Santiago rum (no further detail) was Castro's favourite. That may be purely anecdotal, and I have lots of favourites in my own stocks – but I can state with some assurance that if you have a shelf containing your own favourite sipping rums, this one can, without embarrassment or undue favour, be displayed proudly among all the others residing there.
A:7/10 N:19/25 T:19/25 F:18/25 I:10/15 TOT: 72/100
Rating system
40-50 Hooch. Deficient in either nose, body, flavour or finish (or all of them), barely worth a mix.
51-60 Decent for a cocktail but not much else. Not meant as a sipping spirit. May make a brilliant cocktail.
61-70 You might want to experiment with drinking this one neat
71-75 Good sipping rum with a few discordant notes that can still make a good cocktail
76-80 Really excellent, top tier drink.
81-90 No additive or ice should ever touch such a superb offering.
90+ Marriage material. Sell the Benz, 'cause you'll have to.