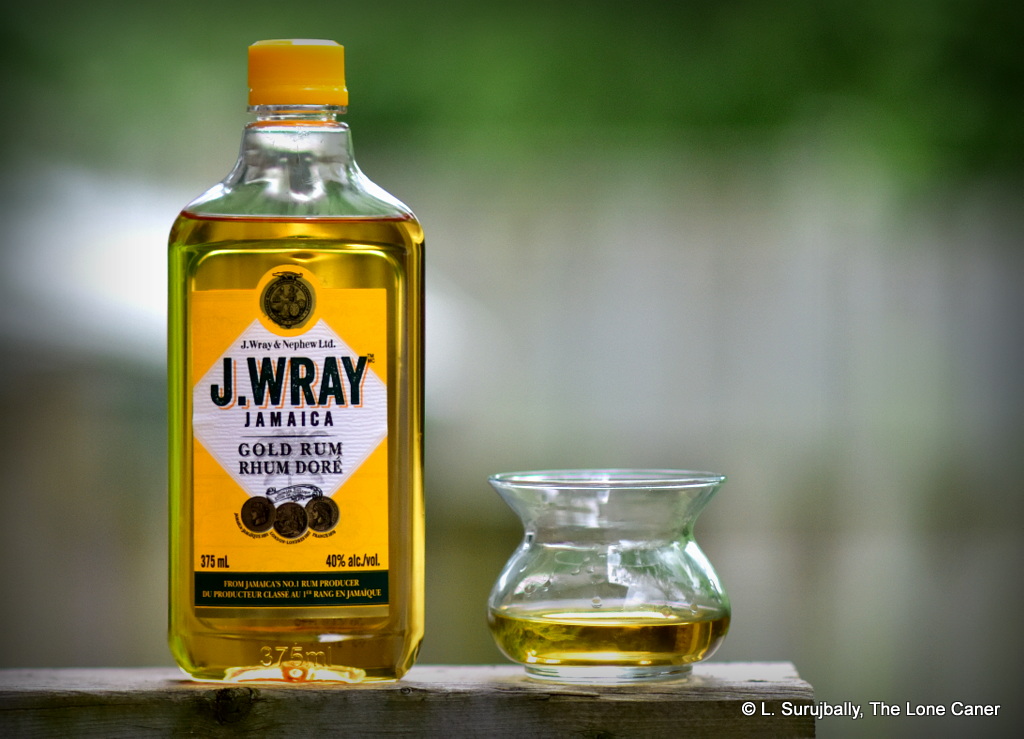 In the previous review of the Florida Caribbean Distillers industrially-produced Florida Reserve 2 year old rum, it was treated and written about with some disdain, because as far as I was concerned, it had nothing to make it stand out at all.  It was a low rent mass-produced column-still rum that did exactly nothing to distinguish itself and could at best be used to spike a drink with alcohol, without leaving any trace of itself behind, not even a grin.
Move on now to another minimally aged rum marketed to the masses, cheaply priced, easily available (at least, in Toronto, which was where I sourced it), and you can see what a difference there is. I'm not talking about intrinsic quality so much as distinctiveness; nor do I contend that the J. Wray Gold is some kind of hidden masterpiece, because it rubs shoulders in the same sort of downmarket liquor store shelves where you might find the Reserve, and is a mass market rum just like it….but does have its points.
The J. Wray Gold is nothing particularly new – for years it was sold as the Appleton Special Jamaican rum, and this new version got issued in 2016 as a rebranding effort (though why they bothered escapes me – maybe it's to distinguish it from the slightly more upmarket Appleton range of rums).  For what it's worth, I tried them side by side, and felt they tasted somewhat similar, scored somewhat similar, but were definitely not the same – so the recipe was likely tweaked some in the rebranding. What is also peculiar is that there is actually not much information available on what makes it up: the most I can ascertain is that it's a mix of pot and column still distillate, 40% ABV, and (my opinion) is probably very young – maybe two years old or so, maybe even less.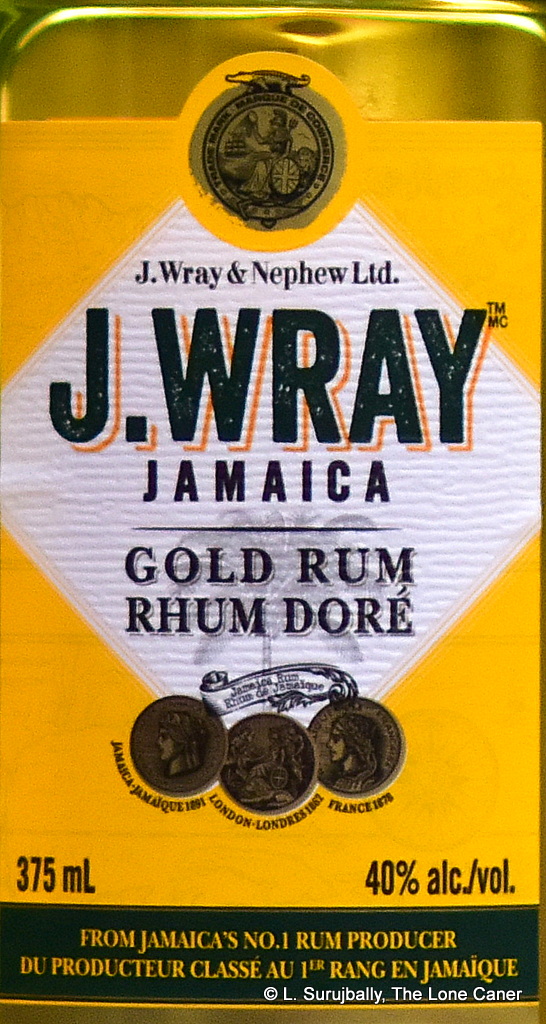 I make this last observation because of its unrefined nature. Even at standard strength, it noses rather raw and jagged, even harsh.  There are initial aromas of light glue, rotten bananas and some citrus, light in tone but sharp in attack. It also smells a little sweet and vanilla-like, with vague florals, apple cider, molasses, dates, peaches and dates, with the slightest rtang of burnt rubber coiling around the back there somewhere. But it sears more than caresses and it's clear that this is not a lovingly aged product of any kind.
It is, however, somewhat more distinct on the taste.  The sharp and uncouth nature doesn't abate, that's a given, and funky notes persist – rotting fruit, ripe landfill steaming after a tropical rain (yeah, I know what that sounds like), overripe fruit and bananas, honey, brine, vanilla and some molasses and caramel.  It's not very well integrated and though I mention these flavours, the truth is that they are still underwhelming (a function of the strength) and the roughness on the tongue makes it unsuited for any kind of sipping drink. The finish is unspectacular- short, salty, nutty with some citrus and vanilla thrown in, and overall, very faint, quickly gone.
This is not a ringing endorsement by any means — I can't say I cared for it, really.  But for good or ill, it was a rum you couldn't easily forget once you tried it because of those very same attributes. It excites opinion, not indifferent yawns. Sure it's a rough 'n' ready backcountry bottom-feeder, perfect for a pick-me-up hip flask to be taken into the dodgy areas of Scarborough when you're liming with your squaddies down at the local rumshop. It's cheap, it's raw, and doesn't pretend to be anything other than an entry level hooch.
Yet at the same time you can sense the nascent quality it has, which emerges more fully as you work up the line of the company's products. It has something, some small spark of artistry, of appeal, of uniqueness. Poor as it rates next to pricier upscale rum from J. Wray / Appleton, it does show what some distillation chops and blending ability can bring to the table with a set of people who know what they're doing, even at the bottom end of the range. Oh sure it won't class with an aged Hampden or Worthy Park, and I think even the V/X exceeds it. So okay, it fails, maybe….but to me, it fails with authority. And that's why, though scoring them almost the same,  I would prefer an honestly made piece of dreck like this, over something more smoothly anonymous like the FCD Florida Reserve.
(#606)(73/100)