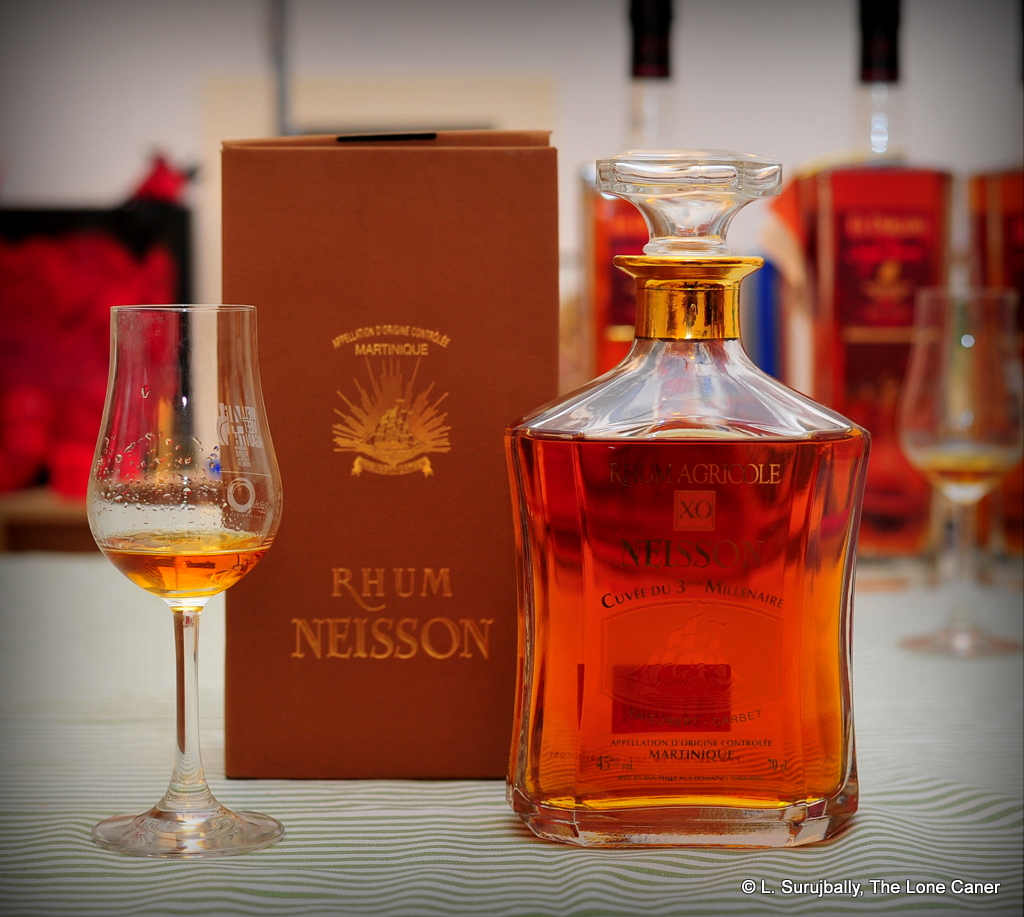 Trying the last of the four Neisson I bought in 2014-2015 made me happy I saved it for last, because it was, I felt, the best of them all.
(#284 / 87.5/100)
***
"The race does not always go the swift, nor the battle to the strong," goes that old aphorism; to which some wag added "…but that's the way to bet." I feel the same way about older rhums versus younger ones – the best score doesn't always go to the oldest (the Trois Rivieres 1975 and 1986 are proof of that), it's just that more often than not that actually is the case.  As it is, here, with Neisson's excellent XO, one of the really delicious sipping rhums from the domaine Thieubert on Martinique.
The Neisson XO 3me Millesime was begun in 1999 to mark the entry into the third Millenium, and is pretty much Neisson's top of the line rhum, limited to two thousand bottles a year.  It is a blend of Neisson's ten best barrels of any given year which already underwent a minimum of six years' ageing prior to assembly, and once blended, aged for at least another six years (I have seen posts dating back from 2007 suggesting fifteen years total). And unlike the rectangular round-edged standards of editions further down the price ladder, here the company provided an etched decanter with a glass stopper, gold leaf printing, all looking very spiffy.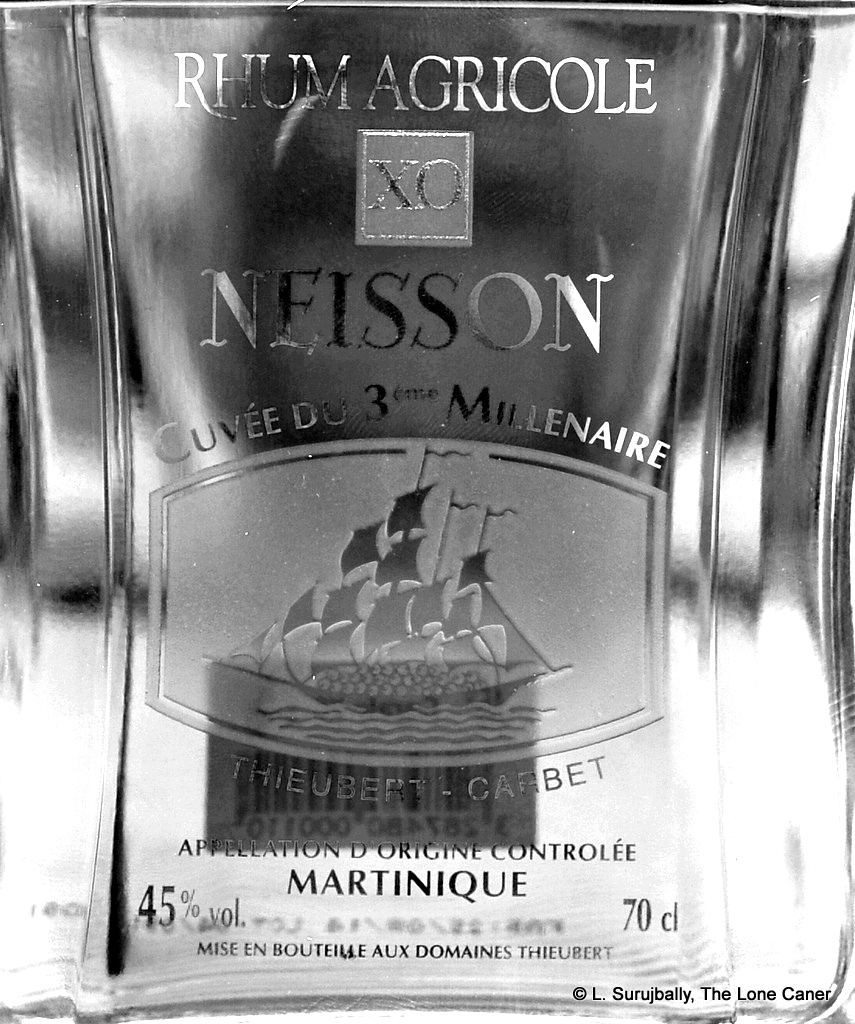 I've remarked before on that odd oily tequila-like note I sensed on all the Neissons (e.g  the 2005, Tatanka and Extra Vieux).  In this instance it had been dialled way down from even the 2005 edition, and began with rubber and overripe fruit mixed up with acetone and brine (the last gasp of a tamed post still, maybe?).  It was smooth, heavy, easy, just a little spicy (45%, very well handled).  As I went between it and all its siblings I got back to it ten minutes later to find it had developed really well – pears, red roses (not too overpowering or over-dominant), a few apples just beginning to go, and orange juice, all leavened by a shy shade of coconut. It was a really very nicely assembled nosing rhum…I could have gotten lost in it.
It was on the palate that the gold-brown AOC rhum really shone, though.  The texture and mouthfeel were extraordinarily well-balanced, neither too hot nor too reticent, smooth and just heavy enough, as rounded as John Cena's biceps.  None of that overripe fruit or rubber/acetone flavours carried over from the nose – instead, what I got was a kind of perfumed teriyaki, salt and sweet, backed up with florals and a cornucopia of light fruits – Indian mangoes, kiwi fruit, white guavas, a little Lebanese grapes, bananas, coconut, cocoa, brown sugar and vanilla, all tied up in a bow with a flirt of light acidity carrying over from some orange or ripe lemon peel.  If the finish was not as complex as the taste (the palate really was the best part about the whole experience), well, at least it was long for a 45% rhum, and provided me with closing hints of white sugar soaked in lemon juice, reminding me of all the times I dosed my stepmother with that exact mixture when she had a bad cold.
If I had to make some criticisms, it would be to say the nose isn't entirely up to the excellence of the taste, though even with its relatively subdued nature (relative to the other Neissons) it's damned good.  And the finish, aromatic as it might be, could have been beefed up some.  But really, these are minor quibbles in a rhum that is all-round yummy and does its company and younger brothers no dishonour at all.  While not everyone is into agricoles – Lord knows it took me long enough to learn to appreciate them – if you can get a sample of this XO, by all means give it a shot.  Different it may be. Tasty it definitely is. Deficient? Absolutely not. It is the best of the Neissons I've tried so far.