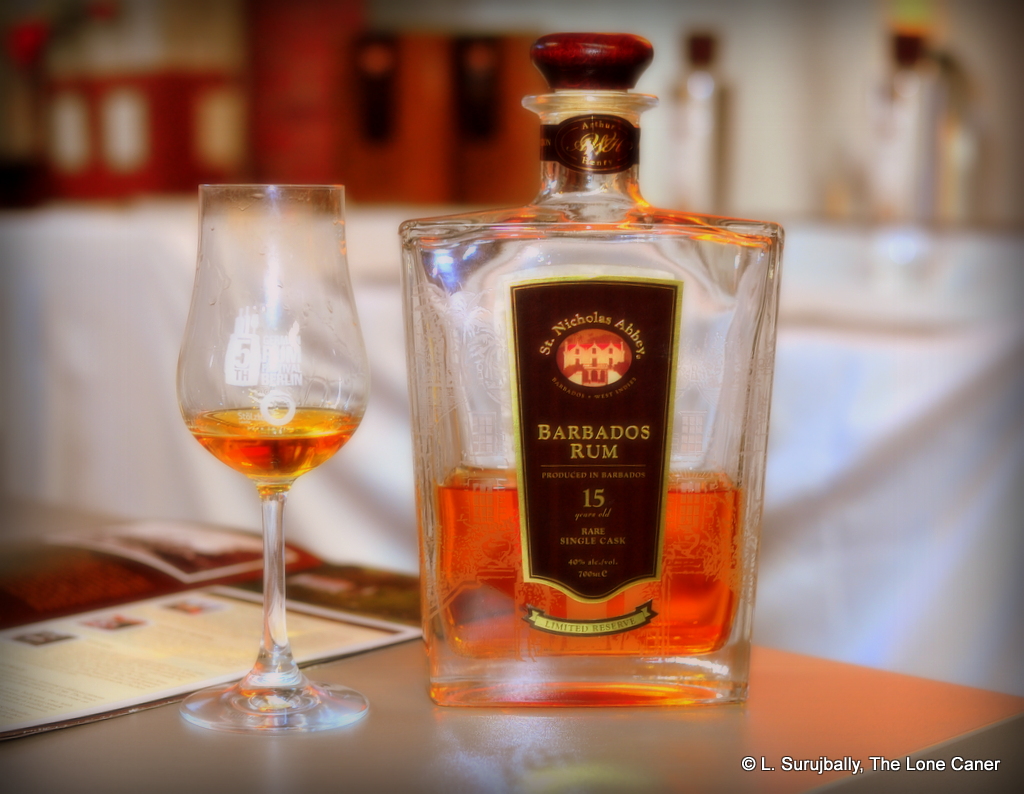 An expensive, luxurious, silky, almost-heavy, near-masterpiece of assembly. This dethrones the $400 Panamonte XXV as maybe the best 40% rum I've ever tried. For half the price.
(#238. 88/100)
***
It's been just over four years since I reviewed the St. Nicholas Abbey's 8, 10 and 12 year olds, and I liked them all, a lot. They were soft, warm, well-made Bajan rums (initial distillate provided by R. L. Seale of Four Square), redolent of much history and heritage — the plantation itself is as much of interest as the rum they make. Ever since then I've been trying to get my hands on the other products I knew were coming: alas, the additional products the Warrens told me about never arrived in Calgary, and they came too late to other markets for me to obtain them before I moved away.
Never mind. That's what RumFests are for. After being poured a glass or three, I spent a most convival half hour in Berlin in 2015 irritating an enormously helpful Mr. Simon Warren with endless questions and remarks about his rums, and finally gave the poor chap some peace by first calibrating on the five year old, trying some ten, and then launching into the golden-hued fifteen for which I had waited so long.
These rums were a sequence of very similar products, each a little bit different and perhaps better than its predecessor, and each certainly more complex than the one that preceded it. That's not entirely a surprise, since the remains of the 8 and 10 were what comprised the 12, and the 12 was aged even further into the 15 (the five year old can't be brought into this discussion since it was made completely in-house). The 10 was very much like I remembered. Soft, warm,some interesting stuff going on under the hood, and if I wished they were stronger (as I usually do these days), there was very little fault to find with what was presented.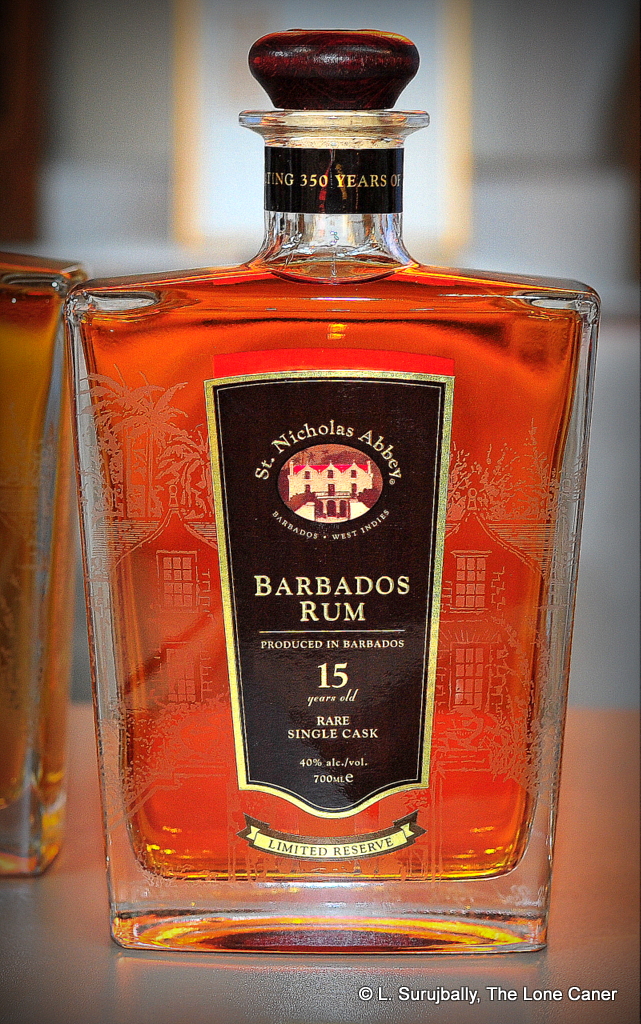 The 15 ratcheted things up a notch. At 40% ABV, I wasn't expecting any kind of hurricane-force F5 taste bomb, and I didn't get one. What I did get was a nose of uncommon warmth and softness, where lush, deep flavours gently swirled around and released themselves over the half hour I spent letting it breathe. Soft molasses and bananas started things off, as dense as an El Dorado that decided to take the day off. A little spiciness, not enough to matter, followed up by some nuttiness of almonds in chocolate, raisins, ripe black grapes and raisins, some orange peel…and was that coconut, a flirt of cinnamon at the back end? Yes it was.
The taste continued on very pleasantly from the nose. Here some more heat was evident, well toned down (well, it is only 40%), a velvet blanket drawn across the taste buds. Bananas and molasses and raisins started the party, followed by smokier, drier hints of aromatic pipe tobacco and an old leather satchel, more almonds, vanilla, caramel, nougat. A bit of coffee and a last bit of citrus became detectable after a while. It was, in fine, a rum that encouraged leisurely appreciation, a languorous conversation, fond memories. And the finish was very much in line with all that – as well as the softer caramel, vanilla and toffee (again, there was that vague spiciness of orange peel), it honestly felt like I was having a weird mocha-infused eclair. Sweet? Yes – but all held very carefully in balance, not overwhelming, and certainly not taking over the show. It was a rum I enjoyed thoroughly, and thought it a worthy addition to the pantheon.
The bottle adhered to the same ethos as produced previous younger editions, being the marvellously etched, squarish flagon surmounted by a mahogany enclosed cork. Apparently you can get custom etching and a cut rate price on refills, if you take your own bottle to the Abbey, up in St. Peter's parish of Barbados. The rum is completely aged on the premises in used bourbon barrels – research shows it is initially aged for eight years at a high proof strength (65%), and then the barrels are batched and rebarrelled for an additional seven years to make the fifteen. The bottles themselves are individually filled from each barrel – it's not like the entire output is married and then used to fill the bottles all at once…so some variation is likely to occur here.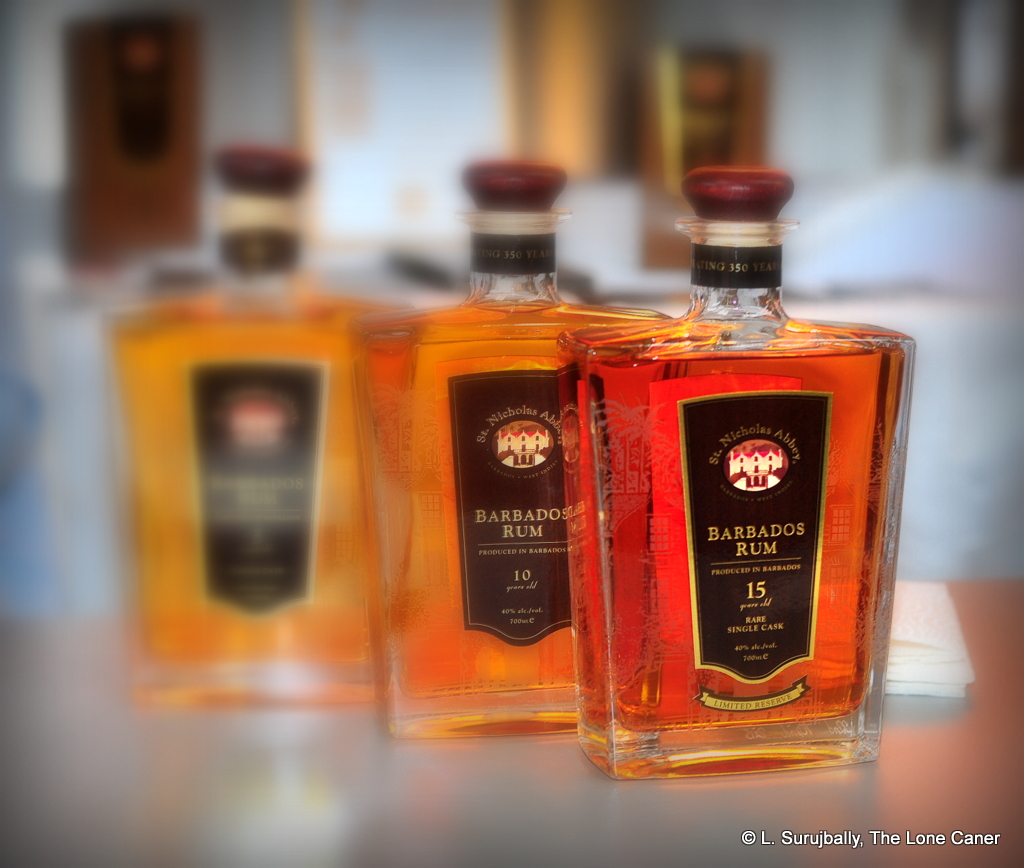 Tastes aside, the St. Nicholas Abbey 15 year old is not a raw, brawny, uncouth monster that jumps out to assault you with a roaring plethora of screaming-sharp, precise and intense flavours from the moment you uncork the bottle. It is, rather, a gentle, warm drink to have with a cigar, the evening papers and in the warm afterglow of a kiss from the wife. Its genius arises from the way the tastes that do exist meld together into an firm melange of uncommon complexity, with just enough heat to remind you it's a rum, accompanied by a texture and mouthfeel that was silk and velvet and spice all at once.
I remember thinking that day, finalizing my detailed notes and giving the harried-looking (but still polite) Mr. Warren a chance to escape, that I really wish I knew what the eight year old 65% tasted like prior to rebarrelling for the next seven years – I have a feeling it would be exceptional. But given that few rum makers could make a 40% rum this good at all, I concluded, perhaps comfort could be found by merely having another substantial dram poured into my glass, walking off to the corner, and enjoying it in an overstuffed armchair as restful as the rum while watching other aficionados walk past.
And that's exactly what I did.
Other Notes
The history of the Abbey is covered in my initial essays on the younger rums, and can also be found on their excellent website.